For those who have never visited The State of Georgia Museum of Art, housed on the Univ. of Ga. Campus, I urge you do so. I have been a board member for more years than I can remember and recently GMOA won several awards as follows: "
I am so pleased to inform you all that the museum recently won two of the highest awards given by SEMC.
Icon of Modernism: Representing the Brooklyn Bridge, 1883-1950
won the Gold Award for exhibitions that cost over $100,000, and Gifts and Prayers: The Romanovs and Their Subjects won the same award in the category for exhibitions over $25,000. I hope you will join me in congratulating Bill, Asen, and Sarah Kate for receiving much this deserved recognition for their excellent work." Bill Eiland, Director
+++++++++++++++++++++++++++++++++++++
The picture in The Middle East worsens for Israel because of Obama's Iran Deal and feckless approach towards Syria and Russia. (See 1 below.)
++++++++++
Identity politics comes with a price. We would be wise to heed Justice Thomas' opinion.
I have always advocated when apportioning voting districts it should be done straight across according to the number of Representatives. If 12 then draw 12 straight horizontal lines, etc. (See 2 below.)
++++++++++++++++++++++++++++++++
John Bolton's thoughts regarding N Korea and China's role. Now the ball should be in China's court because the threat from N Korea has morphed into a greater one for China since the monster they helped birth and support now poses a threat to America and the region and is beyond toleration .(See 3 below.)
++++++++++++++++++++++++++
Another bridge to nowhere. (See 4 below.)
++++++++++++++++++++++++++++++++
Dick
++++++++++++++++++++++++++++++
1)
Mossad Chief: Middle East 'Changing for the Worse,' Iran Threat Growing Post-Nuclear Deal
The regional threat posed by Iran is growing, Mossad chief Yossi Cohen told Israeli cabinet ministers on Sunday, according to media reports
The Middle East is "changing for the worse," the Hebrew news site Walla quoted Cohen as saying. "Israel is identifying a presence not only of Iran and Hezbollah, but also of Shiite forces, that are not Iranian, from all over the world that are making their way to the region, and our number one mission is to stop this."
The remarks, Walla reported, were made during a periodic briefing provided by the head of the Mossad to the cabinet. One senior official who attended the meeting told Walla that Iran topped the agenda.
Referring to the ceasefire deal brokered by the US and Russia last month regarding southern Syria, Cohen reportedly said that Israel's demand that Iranian and other Shiite forces leave the area had not been accepted. Diplomatic efforts on the matter were continuing, he added, but "Israel's aspirations have not yet been internalized by the American side."
In a statement about Cohen's briefing, Prime Minister Benjamin Netanyahu's office said the Mossad chief "emphasized that the main process taking place in the Middle East today is Iran's expansion" — via its own forces and local proxies — in countries such as Syria, Lebanon, Iraq and Yemen.
"In places where the presence of ISIS is decreasing, Iran is working to fill the void," Netanyahu's office quoted Cohen as saying.
Cohen also informed ministers that Iran had not abandoned its goal of becoming a nuclear-threshold state and that the Iranian economy had been growing since the July 2015 nuclear deal agreed to by the Tehran regime and six world powers.
This, Netanyahu's office said, was "clear proof that the basic assumptions of the deal with Iran were wrong from the start."
Israel, Netanyahu's office continued, was not obligated by international agreements signed by Iran and would continue to act "in a variety of ways" to protect itself from the threats it faces.
+++++++++++++++++++++++++++++++++++++++++++
The Poison of Identity Politics
The return of white nationalism is part of a deeper ailment.
As ever in this age of Donald Trump, politicians and journalists are reducing the violence in Charlottesville, Virginia, on Saturday to a debate over Mr. Trump's words and intentions. That's a mistake no matter what you think of the President, because the larger poison driving events like those in Virginia is identity politics and it won't go away when Mr. Trump inevitably does.
The particular pathology on display in Virginia was the white nationalist movement led today by the likes of Richard Spencer, David Duke and Brad Griffin. They alone are to blame for the violence that occurred when one of their own drove a car into peaceful protesters, killing a young woman and injuring 19 others.
The Spencer crowd courts publicity and protests, and they chose the progressive university town of Charlottesville with malice aforethought. They used the unsubtle Ku Klux Klan symbolism of torches in a Friday night march, and they seek to appear as political martyrs as a way to recruit more alienated young white men.
Political conservatives even more than liberals need to renounce these racist impulses, and the good news is that this is happening. The driver has been charged with murder under Virginia law, and Attorney General Jeff Sessions opened a federal civil-rights investigation and issued a statement condemning the violence: "When such actions arise from racial bigotry and hatred, they betray our core values and cannot be tolerated." Many prominent conservatives also denounced the white-nationalist movement.
Mr. Trump was widely criticized for his initial statement Saturday afternoon that condemned the hatred "on many sides" but failed to single out the white nationalists. Notably, David Duke and his allies read Mr. Trump's statement as attacking them and criticized the President for doing so.
The White House nonetheless issued a statement Sunday saying Mr. Trump "includes white supremacists, KKK, Neo-Nazi and all extremist groups" in his condemnation. As so often with Mr. Trump, his original statement missed an opportunity to speak like a unifying political leader.
Yet the focus on Mr. Trump is also a cop-out because it lets everyone duck the deeper and growing problem of identity politics on the right and left. The politics of white supremacy was a poison on the right for many decades, but the civil-rights movement rose to overcome it, and it finally did so in the mid-1960s with Martin Luther King Jr. 's language of equal opportunity and color-blind justice.
That principle has since been abandoned, however, in favor of a new identity politics that again seeks to divide Americans by race, ethnicity, gender and even religion. "Diversity" is now the all-purpose justification for these divisions, and the irony is that America is more diverse and tolerant than ever.
The problem is that the identity obsessives want to boil down everything in American life to these categories. In practice this means allocating political power, contracts, jobs and now even salaries in the private economy based on the politics of skin color or gender rather than merit or performance. Down this road lies crude political tribalism, and James Damore's recent Google dissent is best understood as a cri de coeur that we should aspire to something better. Yet he lost his job merely for raising the issue.
A politics fixated on indelible differences will inevitably lead to resentments that extremists can exploit in ugly ways on the right and left. The extremists were on the right in Charlottesville, but there have been examples on the left in Berkeley, Oakland and numerous college campuses. When Democratic politicians can't even say "all lives matter" without being denounced as bigots, American politics has a problem.
Mr. Trump didn't create this identity obsession even if as a candidate he did try to exploit it. He is more symptom than cause, though as President he now has a particular obligation to renounce it. So do other politicians. Yet the only mission of nearly every Democrat we observed on the weekend was to use the "white supremacist" cudgel against Mr. Trump—as if that is the end of the story.
It isn't, and it won't be unless we confront this underlying politics of division. Not long ago we were rereading Justice Clarence Thomas's prophetic opinion in Holder v. Hall, a 1994 Supreme Court ruling on dividing voting districts by race.
"As a practical political matter," he wrote, "our drive to segregate political districts by race can only serve to deepen racial divisions by destroying any need for voters or candidates to build bridges between racial groups or to form voting coalitions." Writ large, Justice Thomas was warning that identity politics can destroy democratic trust and consent.
++++++++++++++++++++++++++++++++++++++++++++++++++++++
3)
China Is Our Last Diplomatic Hope for North Korea
Former National Security Advisor Susan Rice
acknowledged
last week that America's policies regarding North Korea's nuclear-weapons program over the last three administrations had failed. She said, rightly, "You can call it a failure. I accept that characterization of the efforts of the United States over the last two decades."
Former Vice President Al Gore said much the same. They should know. They served under President Bill Clinton, who started things rolling downhill with the Agreed Framework of 1994. This misbegotten deal provided Pyongyang 500,000 tons of heavy fuel oil annually and two light-water nuclear reactors in exchange for the North's promise to abandon its nuclear-weapons efforts.
Pyongyang violated its promise before the ink was dry. In 1999, former Secretary of State James Baker denounced Clinton's approach as "a policy of appeasement." Baker's characterization also applies to much of the subsequent U.S. diplomacy. North Korea has always been willing to promise to abandon its nuclear ambitions to get tangible economic benefits. It just never gets around to honoring its commitments.
After 25 years of failure, we need not tarry long (or at all) on more diplomacy with Pyongyang. Fred Ikle once characterized the North as capable of "boundless mendacity." He was being charitable.

Talking to North Korea is worse than a mere waste of time. Negotiations legitimize the dictatorship, affording it more time to enhance its nuclear and ballistic-missile capabilities.
Today, only one diplomatic option remains, and it does not involve talking to Pyongyang. Instead, President Trump should urge President Xi Jinping that reunifying the Korean Peninsula is in China's national interest.
This is a hard argument to make, requiring reversal of decades of Chinese policy. It should have been broached years ago, but it is still doable. There is now growing awareness in China that maintaining the two Koreas, especially given the current nuclear crisis, does not benefit China long-term
Historically, the Korean Peninsula's 1945 partition was always intended to be temporary. Kim Il-Sung's 1950 invasion of South Korea and three years of ultimately inconclusive war resulted in hardening the bifurcation into its current manifestation. Beijing has backed the status quo, believing that North Korea provided a buffer between Chinese territory and U.S. military forces.
Maintaining its satellite, however, has been expensive and risky. China has long supplied more than 90 percent of the North's energy needs, and vast quantities of food and other assistance to sustain Pyongyang's gulag. China has also expended enormous political and diplomatic energy, costing it precious international credibility, to protect the North's erratic regime.
Initially, China saw the North's nuclear and ballistic-missile programs as a problem for America, Japan and South Korea rather than itself. That notion has disappeared, however, under the harsh prospect that today's nuclear crisis will be merely the first of many with North Korea. Moreover, Japan is now increasingly likely to seek its own nuclear capability, a nightmare for China in some respects more troubling than America.
Confronted by this new, deeply threatening reality, Beijing's views on Korean reunification are ripe for change. China has never applied its uniquely strong economic leverage on Pyongyang because it feared so doing could cause catastrophic collapse of the North's regime. That would in turn produce two unacceptable consequences: massive Korean refugee flows across the border into China, and American and South Korean troops crossing the DMZ and quickly reaching the Yalu and Tumen Rivers.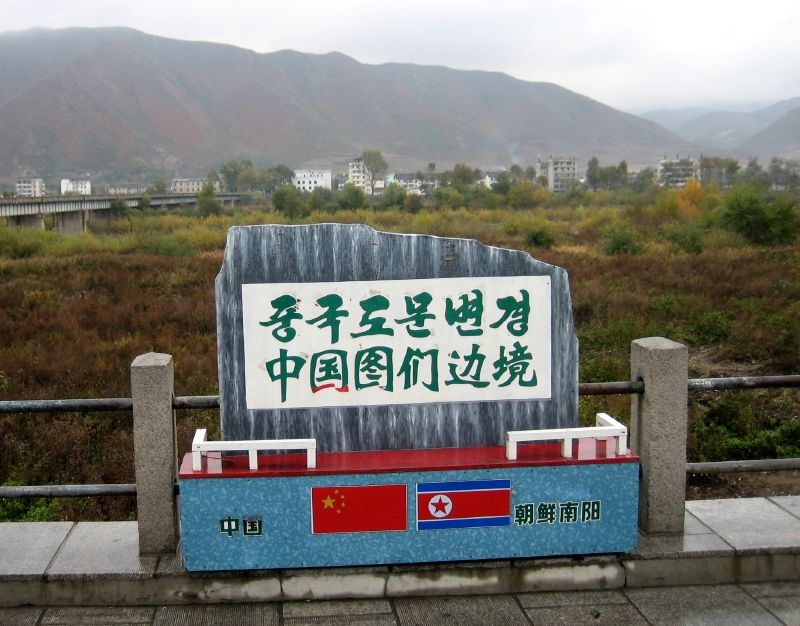 An inscription stone marking the border of China and North Korea, in Jilin. (Image source: Prince Roy/Wikimedia Commons)
The answer to China's fear of uncontrolled collapse is a jointly managed effort to dismantle North Korea's government, effectively allowing the swift takeover of the North by the South. China can start by quietly bribing the Kim regime's top military and civilian officials, offering political asylum and a safe exile for them and their families in China, while simultaneously cutting off energy and other supplies to the North. Seoul can also offer inducements to key North Korean leaders, reminding them what life could be like in a post-Kim world.
Simultaneously, massive information efforts should be launched throughout the North to spread word quickly on what is happening. The population may lack cell phones and the Internet, but they are far more aware of the outside world than conventional stereotypes. The end of North Korea, and hence the end of its nuclear threat, would be inevitable. The process will undoubtedly be dangerous and somewhat chaotic, but far less so than a completely uncontrolled collapse. And whatever the risks, they pale before the risks of nuclear conflict emanating from the erratic Kim regime.
Washington can offer Beijing two assurances to assuage its concerns. First, we would work closely with China to prevent massive refugee flows either into China or South Korea.
Our common interests here are clear.

Second, as the North begins to collapse, allied forces would necessarily cross the DMZ to locate and secure Pyongyang's nuclear, chemical and biological weapons stockpiles and to maintain civil order.
These forces would ultimately reach China's border, but we can commit to Beijing that Washington will not station troops there for a sustained period. Instead, we would pledge to base virtually all U.S. military assets near Pusan at the Peninsula's southern tip, to be available for rapid deployment around Asia. They would not constitute a watch on the Yalu.
The alternative to this last available diplomatic play is military force. The imperative of protecting innocent American civilians from the long-term threat of North Korea's nuclear capability dictates that we should be willing to strike those capabilities pre-emptively. But before that, who will argue against this one last realistic diplomatic effort?
John R. Bolton, former U.S. Ambassador to the United Nations, is Chairman of Gatestone Institute, a senior fellow at the American Enterprise Institute, and author of "Surrender Is Not an Option: Defending America at the United Nations and Abroad".
+++++++++++++++++++++++++++++++++++++++++++
4)
A man on his Harley was riding along a California beach when suddenly the sky clouded above his head and, in a booming voice, God said, "Because you have tried to be faithful to me in all ways, I will grant you one wish."
The biker pulled over and said, "Build a bridge to Hawaii so I can ride over anytime I want."
God replied, "Your request is materialistic. Think of the enormous challenges for that kind of undertaking. The supports required to reach the bottom of the Pacific and the concrete and steel it would take! I can do it, but it is hard for me to justify your desire for worldly things. Take a little more time and think of something that could possibly help mankind."
The biker thought about it for a long time.
Finally, he said, "God, I wish that I, and all men, could understand women. I want to know how she feels inside, what she's thinking when she gives me the silent treatment, why she cries, what she means when she says nothing's wrong, why she snaps and complains when I try to help, and how I can make a woman truly happy."
God replied: "You want two lanes or four on that bridge?"
+++++++++++++++++++++++++++++++++++++++++++