Is this the real Trayvon the news and press do not want you to know about? If so, there would be no story and they would not make money off sensationalism and false reporting. I hope when this tragic event has been resolved Zimmerman sues the papers for slander and libel, if possible, and the various media who manipulatively sought to destroy his life . (See 1 below.)
---
If you wanted America to fail and not lead:
http://freemarketamerica.org
/
---
Professor Jeremy Siegel sticks to his guns. (See 2 below.)
---
This article validates what I have been posting regarding our failings in education. (See 3 below.)
Therefore, is it any wonder? (See 3a below.)
---
Turtles never advances until they stick their necks out and so it must be with Romney. (See 4 below.)
Dick
---------------------------------------------------------------------------------------------------------------------
1)
AND THIS IS TRAYVON
"no limit nigga" was his screen name
There is also fairly direct evidence that Trayvon may have been a small-time drug-dealer.
On Facebook on February 5th, his friend posts on his wall asking to talk business. Trayvon says he doesn't have a phone available and his friend says, "Damn were u at a nigga needa plant."
There has been very little follow-up in investigating exactly why Trayvon was suspended for such a long period of time for what seems to be the relatively minor offense of "being in an unauthorized area." In most schools, something like that would be a detention, or one-day, in school suspension at most. Not ten days.
Many people are reading a lot into the weight difference between Martin and Zimmerman (George Zimmerman, whose father is white and mother is Hispanic), but Zimmerman was also 5'9 and out of shape. I'm pretty sure many tubby thirty-year-olds wouldn't do well against a fit, 6'3, 17-year-old.
The media narrative being sold is quite clear, Trayvon Martin is the innocent victim here and George Zimmerman is a horrible bigot who attacked the young man for doing nothing more than buying skittles while being black. Even Barack Obama seems to accept the fresh-faced innocence of Trayvon, stating, "If I had a son, he would look like Trayvon." More on that later.
It's becoming more and more clear however that the innocent appearance the mainstream media is so desperate to apply to Trayvon isn't at all accurate. The picture we're used to seeing to represent Trayvon Martin appears to be a far cry from how he actually looked once he was a few years older.
Instead the officer reported he found women's jewelry and a
screwdriver that he described as a "burglary tool," according to a
Miami-Dade Schools Police report obtained by The Miami Herald. Word of
the incident came as the family's lawyer acknowledged that the boy was
suspended in February for getting caught with an empty bag with traces
of marijuana, which he called "irrelevant" and an attempt to demonize a
victim. Trayvon's backpack contained 12 pieces of jewelry, in
addition to a watch and a large flathead screwdriver, according to the
report, which described silver wedding bands and earrings with diamonds. Trayvon was asked if the jewelry belonged to his family or a girlfriend.
"Martin
replied it's not mine. A friend gave it to me," he responded, according
to the report. Trayvon declined to name the friend. Trayvon was
not disciplined because of the discovery, but was instead suspended for
graffiti, according to the report. School police impounded the jewelry
and sent photos of the items to detectives at Miami-Dade police for
further investigation. A lawyer for the dead teen's family
acknowledged Trayvon had been suspended for graffiti, but said the
family knew nothing about the jewelry and the screwdriver."
----------------------------------------------------------------------------------------------------------------------
2)
"
Equities relative to interest rates are the most attractive in over half a century in my analysis
," Professor Jeremy Siegel told CNBC yesterday morning.
Siegel specifically said stocks are cheap "relative to interest rates." I agree with him…
In December, I wrote a
DailyWealth
essay called "
Why the Entire Stock Market Could Soar Over 100% from Here
," based on the same idea…
Stocks are already up 14% in the four months since I wrote that.
And it's still true.
This simple principle is that investors are being forced into stocks because interest rates – returns – are so low in everything else…
Interest rates are zero percent at the bank and less than 2% on government bonds. Meanwhile, the "earnings yield" of stocks is closer to 8%.
"Earnings yield" might sound fancy – but it's just the price-to-earnings (P/E) ratio flipped over… Instead of the P/E ratio, earnings yield is the E/P ratio. And right now, the gap between the earnings yield on stocks and the return on everything else is too wide. It has to close.
Jeremy Siegel fully understands this… He explained it earlier in the month on
CNBC
. Stocks are "fairly cheap on an absolute basis," he said. "They're extraordinarily cheap on a relative basis."
On an
absolute
basis, stocks are fairly cheap at a P/E of about 13 today. On a
relative
basis – relative to bonds and just about everything else – stocks are dirt-cheap.
You can see it in the chart below. Stocks offer the best relative value we've seen in 30 years.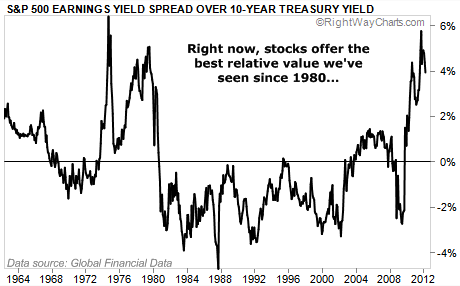 Earlier this year, Siegel told
Barron's
magazine there's a 50/50 chance the Dow stock index will hit 17,000 or higher before the end of 2013. That's about 4,000 points higher than it is today.
Siegel bases his optimism on the earnings yield and on his study of stock market cycles going back to the 1800s. But he made a simple observation as well…
When you start at a 13 price-earnings ratio [where we are today], get back in history, the future is much, much brighter. We've never had bad stock returns over the next three, five, 10 years when you start with a 13 P/E ratio.
Interestingly, Siegel is making these predictions without expecting companies to grow their earnings. He told CNBC… "We don't need corporate profits to grow for stocks to be great buys. Any growth in earnings is an extra bonus to the stock investment."
Stocks are the most attractive in a half-century, Jeremy Siegel says.
I agree with him.
He predicts the Dow could rise by 4,000 points between now and the end of 2013.
I'm usually not as bold as Siegel is in putting hard predictions down like that. But I think he'll turn out to be right…
Invest accordingly.
Good investing,
Steve
---------------------------------------------------------------------------------------------------------
3)
Education Slowdown Threatens U.S.
Throughout American history, almost every generation has had substantially more education than that of its parents.
That is no longer true.
When baby boomers born in 1955 reached age 30, they had about two years more schooling than their parents, according to Harvard University economists Claudia Goldin and Lawrence Katz, who have calculated the average years of schooling for native-born Americans back to 1876.
In contrast, when Americans born in 1980 turned 30 in 2010, they averaged about eight months more schooling than their parents.
This development already has broad ramifications across the U.S. job market: Those with only a high-school diploma had an 8% unemployment rate in March, roughly double that of college graduates, who had a 4.2% unemployment rate. Workers with bachelor's degrees earn 45% more in wages on average than those of demographically similar high-school graduates. And in today's highly automated factories, many manufacturers demand the equivalent of a community-college degree, even for entry level workers.
More serious consequences may be felt in the future. Without better educated Americans, economists say, the U.S. won't be able to maintain high-wage jobs and rising living standards in a competitive global economy. Increasingly, the goods and services in which the U.S. has an edge rely more on the minds of American workers—than on their muscle. "The wealth of nations is no longer in resources. It's no longer in physical capital. It's in human capital," says Ms. Goldin.
The reasons American education levels are no longer increasing as they once did are numerous: Despite years of effort, high-school dropout rates remain stubbornly high. College tuition is rising and the prospect of shouldering heavy debt discourages some high-school graduates from enrolling in college or sticking with it.
There is also growing skepticism among some Americans about whether a college degree actually translates into a well-paying job. Particularly during the recent recession, there have been gluts of college graduates in some industries and shortages in others.
For instance, the typical worker with a bachelor's degree in petroleum engineering earned $120,000 a year and those with a degree in math and computer science earned $98,000, according to 2010 census data analyzed by Georgetown University's Center on Education and the Workforce. In contrast, the median worker with a degree in counseling psychology earned just $29,000 and those with degrees in early childhood education earned $36,000.
"Not all bachelor's degrees are the same," Georgetown University's Center on Education and the Workforce said in an extensive analysis issued last year. "While going to college is undoubtedly a wise decision, what you take while you're there matters a lot, too."
Mary Brown, 25, of Woodland Hills, Calif., saw friends who finished college with massive debts and were unable to find jobs in their fields, if at all. She took a different approach, earning an associate degree and a certificate in massage therapy from Anthem Career College in Nashville, Tenn.
"I wanted a college that taught me how to do the work, but didn't make me pay to take a lot of other classes in subjects that are irrelevant to my career," she says.
In contrast, her mother, Irena Tolliver, has a bachelor's in elementary education and a master's in reading education. When Ms. Tolliver was growing up, her parents, Belarussian immigrants, told her to "take advantage of the great educational resources that were available," Ms. Tolliver recalls. "That's what America was all about to them."
But Ms. Brown feels differently. After graduating, she landed a $20-an-hour job at a Rockford, Ill., spa, then moved to California but was unable to find a massage-therapy job. So she recently moved back to Illinois.
All but about $5,000 of the $21,000 she borrowed for her 18-month program has been paid back.
"I was working in a career I loved, making a pretty good living, while a lot of my friends were in college and not loving it so much," she says. "Now they are facing tons of debt and I don't have to worry about that."
Ms. Brown isn't unique. Among Americans who turned 25 in the 1970s, only 5% had less education than the parent of the same sex, according to an analysis by Michael Hout and Alexander Janus, sociologists at the University of California, Berkeley. Among those who turned 25 in the 2000s, 18% of men and 13% of women had fewer years of school than their parents.
There is a limit to how much schooling a person can get and to how many Americans have both the ability and interest in a four-year college degree. But the U.S. is nowhere near that point.
Twenty countries have higher high-school graduation rates than the U.S.—including Slovenia, Finland, Japan, the U.K. and South Korea, according to the Organization for Economic Cooperation and Development. In the U.S., about one in five ninth-graders drop out before getting a diploma.
About 30% of American adults have four-year college degrees, and there is little evidence that is a natural ceiling. Thirty years ago, the U.S. led the world in the percentage of 25- to 34-year-olds with the equivalent of at least a two-year degree; only Canada and Israel were close. As of 2009, the U.S. lagged behind 14 other developed countries, the OECD says.
President Barack Obama has vowed to change that. "By 2020," he has said, "America will once again have the highest proportion of college graduates in the world," defining that broadly to include two-year degrees. He has proposed that all states require students to graduate from high school or stay in school until age 18 (as 21 states do already) and pushed successfully for increases in federal student aid.
While not every college grad does better in the job market, statistics consistently show that, on average, the more educated the worker, the better he or she fares in today's job market. For example, 54% of high-school graduates over age 25 were working in March, the Labor Department says, while the rest were either looking for work or out of the labor force altogether. Among those with some college, 64% were working while 73% of those with a bachelor's degree or more were working.
The problem has evolved over the past few decades. Until the mid-1970s, the share of American men and women in their late 20s with four-year college degrees rose steadily, fueled by federal student aid for veterans after World War II and Korea and a further expansion of student aid in the 1960s.
Then something changed, particularly among men. The fraction of 25- to 29-year-old men who had earned four-year degrees began a two-decade-long slide around 1975. After that, fewer young men sought refuge from the Vietnam War draft by going to college. Moreover, a decline in the size of the bonus that college graduates commanded, compared with high-school graduates, provided less reason to go to college.
More men began going to college in the early 1990s. Changes in the economy and technology as well as a shortage of educated workers pushed the wages of college grads well above those of high-school graduates. The fraction of men in their late 20s with four-year degrees has been climbing since 1994, hitting 27.8% in 2010. Despite the uptick, however, that is barely above the 27.5% reported for 1976, according to the Census Bureau.
For women, the trend is strikingly different. While male college-going fell off in the 1970s—in part because men were more likely than women to think they could get well-paid construction or factory jobs without degrees—women kept going. In 2010, 36% of women in their late 20s had earned at least a bachelor's degree, up from 20% in 1976.
Men drag down the average, though. The net result is that a supply of educated workers is rising much more slowly than the apparent demand. Scholars blame leaks and clogs along the entire educational pipeline.
While college enrollment has risen lately—as often happens when people flee a lousy job market—completion rates are disappointing. "We've become very good at getting people to start college," says Harvard's Mr. Katz. "We are not very good at getting people through college."
About 70% of high-school graduates enroll in a two- or four-year college soon after finishing high school, but many never get a degree or any other credential. At four-year colleges, 43% of those who enrolled as freshmen in 2002 hadn't received a degree six years later, according to the U.S. Department of Education.
Mack Smith, 22, whose father has a bachelor's degree in political science, did one semester at Southern Utah University, dropped out, joined the Marine Corps briefly, and then spent a semester at Salt Lake Community College. Today he is working at Whole Foods training new hires in the meat department. He talks about going back to college, though. "I want to be able to take my kids hunting and be able to afford a house and a car," he says. "I'll need more education to get a job like that."
His dad, Michael Smith, wishes his son had stuck with college. "Sometimes," he says, "it takes kids a while to figure out what they want and then figure out how to get it."
Lately, the rising cost of higher education has emerged as an increasingly visible obstacle to going to—and staying in—college, and the spotlight on the mountain of student debt has discouraged others.
Tuition is up, particularly at public colleges that draw the most students. Over the past 10 years, for instance, average published tuition and fees (not counting room and board) at four-year public colleges rose by 72% to $8,240 from $4,790, adjusted for inflation, according to the College Board. Sticker prices are misleading because student aid has become more bountiful. After grants as well as tax deductions and credits, the average net price rose by a much smaller sum—$1,160—to $2,490 over the decade, but that is still an 87% increase.
Governments and colleges have offered more financial aid, but the complexity of the American system—a dizzying array of grants and loans, tax deductions and scholarships—confuses and sometimes scares off some potential college-goers, says University of Michigan economist Susan Dynarski.
Today, student debt outstanding now exceeds Americans' total credit-card debt. In 2009-10, about 55% of public four-year college students graduated with debt; on average, they owed $22,000, the College Board says.
Alex Gavic, 21, is one of those who don't want to take on college debt. As a teenager, he had fleeting thoughts of studying marine biology in college. Instead, he dropped out of high school—eventually receiving a high-school diploma in a second-chance program at a community college.
Today, he makes $12 an hour at a Park City, Utah, landscaping firm during the summer so he can snowboard daily during the winter.
"The greater society told me I had to go to college if I want to make it in life, but it's not true," said Mr. Gavic, who competes semiprofessionally in snowboarding. "I don't care about making a lot of money because I'm happy. I'm just living the life."
Mr. Gavic said he hopes to have his own landscaping business one day. But in the meantime, he doesn't envy his peers who went to college, many of whom have loans to repay and still haven't found jobs.
"You spend all this time in school, then you are in debt, then you have to find a job to spend 20 years paying it back," he said. "That never made sense to me."
3a)
The Age of Indiscretion
GSA partiers in Vegas and Secret Service revelers in Cartagena make it clear that discretion is dead.
By Dan Henninger
Past some point, it becomes pointless to ask, What were they thinking? That people exist who still ask this question suggests there's hope. Maybe.
Carousing Secret Service agents, thought to be an oxymoron in a slovenly time, was one we didn't see coming. Former Congressman Anthony Weiner, from a class of humanity that fell long ago, nonetheless broke new ground by frolicking in ghastly color online with unmet women thousands of miles away. The General Services Administration "on retreat" in Vegas was a bottomless joke until you saw five senior GSA officials (not all of them partygoers) standing in front of a congressional committee, their hands raised like characters in "The Godfather." That would be hitting bottom for most people.
Wondering what were they thinking is a statement, not a question. The better question is: Does anyone think anymore that what they are about to do is, at the least, a mistake? Yes, but those who do look before they leap are a dwindling tribe.
Let us stipulate that the GSA and Secret Service scandals involve serious issues of mismanagement and possibly malfeasance. The big bust can't happen, though, until that voice in the individual brain says: Go ahead; do it.
Welcome to the Age of Indiscretion.
Athletes, celebrities, politicians, bureaucrats, reality TV, YouTubers, no doubt co-workers and now even Secret Service agents. We're all in.
Discretion, before its recent death, had many allies—judgment, common sense, prudence, reticence and the two better selfs, self-control and self-discipline.
Indiscretion, of its nature weak, dropped discipline and control to let the self run free. Has it ever. The age of indiscretion even has its own motto, on display at the Resort M in Vegas and the Hotel Caribe in Cartagena: Living large.
Earlier mottos have been discarded as too corny, such as, A word to the wise is sufficient, or, Forewarned is forearmed. Worth noting, though, is how often now one hears cries for "adult supervision."
The reign of indiscretion has been a long time coming. Some say it arrived in the late 1960s or early '70s, when constraints on behavior eased. But the new age's booster rocket, the thing that finally killed discretion, was social media.
Social media of its nature is about compulsion and revelation. It empowered the already indiscreet. Some of social media's indiscretions are microscopic ("She tweeted that?"), but holding nothing back has become reflexive, and so the norm.
One big paradox at the center of this great untethering is that digitized photos, audio and video are always along for the ride. I'm looking at snapshots, uploaded by someone to the Web, of disgraced GSA Pacific Rim administrator Jeff Neely and his wife on their "scouting trips" to a Vegas hotel. Of Mr. Neely combing his hair in the hotel-room mirror or soaking in the tub with a glass of what looks like Cabernet.
Going further than one should is one thing, but why the compulsion always to record it in a media format that can be distributed to the whole world? Such is the allure and power of indiscretion. Which group of people more than any other would be aware that any hotel, such as the Hotel Caribe, has 24/7 security cameras recording everyone's movements onto a hard disk?
A big part of the Greatest Generation's mystique was its instinct to self-protect. On balance, they were discreet. Countless intelligence veterans of World War II and the Cold War, for example, have gone to their graves without a public peep about their successes. But when the current generation takes down Osama bin Laden, it releases a photograph of itself in the Situation Room and provides operational details of the Navy Seals' attack plan to the media the next day. That was indiscreet.
The mortgage-securities bubble was fraught with systemic misfeasance. At its core, though, a liar loan was an act of indiscretion, on both sides of the deal. "Honey, do you really think we should be taking out a loan this big?" "Why not?!?!" Yeah, said lenders from Countrywide and mortgage packagers from Citibank, why not?
Or as Rep. Barney Frank said in the spirit of the age, let's "roll the dice a little bit more" on subsidized housing. That is a government living large, and in time the boys and girls at the Government Services Administration and agencies everywhere saw that "roll the dice a little bit more" was the new normal.
An architect of simplicity in design once said, less is more. An irony of the age of indiscretion is that more is less, especially if you get caught. The straightforward truth is that much unusual behavior can be tolerated and absorbed by a free society if discretion is putting speed bumps in the path of excess. It beats hitting the wall.
-----------------------------------------------------------------------
4)
The Romney Opportunity
Running on biography and the economy won't be enough.
With Newt Gingrich finally leaving the GOP Presidential race, Mitt Romney is now closer to realizing the ambition he has so long pursued: He has an even-money chance to become America's 45th President. He's more likely to fulfill that ambition if he overcomes his cautious nature and runs a campaign that is equal to America's current political moment.
***
This will not be the instinct of Mr. Romney or his close-knit group of advisers. Looking at the polls, they see a nearly even race, with President Obama below 50% despite the beating Mr. Romney took in the primaries.
The temptation will be to assume the public has decided to fire the incumbent and so run a campaign to become the safe alternative. Take no policy risk, stress Mr. Romney's biography, his attractive family and the seven habits of highly effective businessmen, and then hammer away on the economy.
It's possible, if job creation sputters again or Europe goes into bond-market arrest, that this kind of campaign will be enough to win. It's also possible—more likely in our view—that this will play into Mr. Obama's strengths of personal likability and Oval Office experience, especially if the economy keeps chugging on its current slow-growth path. Mr. Romney will have to make a case not merely against Mr. Obama's failings but also for why he has the better plan to restore prosperity.
On the economy in particular, such a larger argument would fit the country's current mood. The public's anxiety isn't merely about the failures of the last three years, as important as it is for Mr. Romney to score this Administration for its failed stimulus, crony capitalism, hyperregulation, soaring debt and ObamaCare.
Americans are more deeply worried than at any time since the 1970s about their country's long-term prospects. Why aren't middle-class incomes rising? Why are nonmilitary public institutions failing—from K-12 education to entitlements?
Mr. Obama understands these anxieties, even if he has no new answer for them. So his diversionary re-election strategy will be a combination of class warfare, more government subsidies (free student loans!), and personal attacks on Mr. Romney for being wealthy. Mr. Romney will need allies who can rebut these attacks.
But he'll find it easier to defeat Mr. Obama's argument—even to transcend it—if he offers his own economic narrative that reaches back to the mistakes of the Bush Administration to explain how we got here and how he can get us out. Politically, this will help shield Mr. Romney from Mr. Obama's inevitable attempt to link the Republican to the Bush era. Such a critique also has the advantage of being true.
Before Mr. Obama's stimulus, Mr. Bush joined with Nancy Pelosi and Larry Summers on the blunder of "targeted, temporary" tax cuts. Mr. Bush began playing business favorites for ethanol and green energy fads. Republicans in Congress spent like Democrats and protected Fannie Mae and the housing lobby. And Mr. Bush and most Republicans embraced an easy-money Federal Reserve that favored Wall Street and asset bubbles at the expense of real middle-class incomes.
Coming from outside Washington and with his business background, Mr. Romney can make the case for an economic restoration that corrects the mistakes of both the Bush and Obama eras. He can join with the younger generation of GOP reformers—in the states and on Capitol Hill—to pursue an agenda that promises to fix our ailing public institutions, wean Wall Street from Washington, and create more opportunity for all Americans.
This does not require a daily recitation of Paul Ryan's House budget. But it will require more policy content than the gauzy American exceptionalism that Mr. Romney offered in his Tuesday night speech. His remarks had the right tone, the necessary optimism and some nice lines, such as the rebuke of politicians who end up "spreading poverty" in the name of spreading the wealth. But the speech was policy-free. To be credible, a reform agenda has to have some reform substance.
To offer one example, Mr. Romney might as well go on offense on Medicare. This will no doubt horrify Stuart Stevens and his other advisers, since entitlements are supposed to be a Democratic strength. But it's not as if Mr. Romney can dodge the argument.
He has already endorsed enough of Mr. Ryan's premium-support plan to have to defend it, and Mr. Obama is vulnerable with his Medicare cuts and unaccountable rationing board that are part of ObamaCare. Mr. Romney won't win the election on Medicare, but even a draw will be a political victory. Leading on the debate will show voters he is willing to take on difficult issues and give him a reform mandate if he wins.
***
One of Mr. Romney's trickiest challenges will be how to handle Mr. Obama's, er, veracity. More than any President we've seen, this incumbent is willing to say things that aren't in the area code of the truth. Thus he gives himself credit for the natural gas drilling boom, the deficits are still Mr. Bush's fault, Mr. Obama has never raised taxes, and "green jobs" in his dream economy are blooming by the millions.
Mr. Romney can't let the President get away with this, or Mr. Obama will conjure a vision of unreality that enough voters might believe. The challenger has to find a way to mock the mirage of an "economy built to last" without sounding arch or personal. He needs his version of Reagan's "there he goes again."
For all of his challenges, the most important political news is that Mr. Romney has a fighting chance to win. The incumbent's accomplishments are unpopular and the economy is failing average Americans. To win the GOP nomination, Mr. Romney has shown reserves of tenacity and discipline. To win the White House, he'll need to show a larger vision and the nerve to pursue it.
------------------------------------------------------------------------