===
If I say the 'right 'thing to the 'right 'group I can/will get the bucks and I will not be 'left' out!
But I am still a 'lefty!' (See 1 below.)
===
My friend ,Toameh gets it. He is one of the most courageous reporters in Israel. He is an Arab Israeli. (See 2 below.)
===
How is this for irony? America, Turkey and Qatar versus Israel, Egypt, Jordan and Saudi Arabia! (See 3 below.)
===
Gowdy does not need a pen and a cell phone because he has a heart and a brain! "
http://www.youtube.com/watch?v=vzZT9gW5gp8
"
===
Left click and then scroll down and listen to this pathological liar who never meant what he said!
Not sure he ever meant it!
===
You can run but you cannot hide. (See 4 below.)
===
Dick
---------------------------------------------------
1)
Michelle Nunn's Campaign Plan
A leaked document gives the public a look.
M
ichelle
Nunn
can come across as a "lightweight," "too liberal," not a "real Georgian." While she served as CEO for the Points of Light Foundation, the organization gave grants to "inmates" and "terrorists." And her Senate campaign must feature images of her and her family "in rural settings with rural-oriented imagery" because the Atlanta-based candidate will struggle to connect with rural voters.
These may sound like attacks from the Senate candidate's Republican rival, but in fact, those are a few of the concerns expressed in her own campaign plan, which sources say was posted online briefly in December and appears to have been drafted earlier that month. Drawing on the insights of Democratic pollsters, strategists, fundraisers, and consultants, the document contains a series of memos addressed to Nunn and her senior advisers.
From all appearances, the document was intended to remain confidential. It outlines the challenges inherent in getting Nunn, who grew up mostly in Bethesda, Md., elected to the Senate in a state with a large rural population. Her father, Sam Nunn, was elected to the Senate when she was six, and Michelle Nunn attended Washington's prestigious National Cathedral School and then the University of Virginia and Harvard's Kennedy School of Government before returning to Georgia to do nonprofit work and, now, to seek higher office.
The documents reveal the campaign's most sensitive calculations. M
uch of the strategizing in the Georgia contest, as is typical in southern politics, revolves around race
. But the Nunn memos are incredibly unguarded.
One is from
Diane Feldman
, a Democratic pollster and strategist who counts among her clients Minnesota senator Al Franken, South Carolina representative James
Clyburn
, and former Los Angeles mayor Antonio
Villaraigosa
. Feldman, who did not return calls seeking comment, is frank in her characterization of the demographic groups — Jews, Asians, African Americans, Latinos, and gays — that are essential to a Democratic victory. The Nunn campaign declined to comment about the document on the record.
The campaign's finance plan draws attention to the "tremendous financial opportunity" in the Jewish community and identifies Jews as key fundraisers. It notes, however, that "Michelle's position on Israel will largely determine the level of support here." That's a position she has yet to articulate — her message on the subject is marked "TBD" in the document — and Israel goes
unmentioned
on her campaign website.
Asians are also identified as key fundraisers. The community is described as "very tight," one in which people work to "become citizens quickly."
Nunn's strategists also say there is a "huge opportunity" to raise money from gays, bisexuals, and transgender individuals, who are described as having "substantial resources."
This graphic, labeled "confidential and proprietary," comes from the BlueLabs group, an analytics, data, and technology company founded by former Obama campaign staffers. It is included in the document's "voter activation and mobilization" memo.
As southern whites have moved to the right, Democrats have been forced to cobble together a coalition of minority voters. Feldman recommends as a goal winning just 30 percent of the white vote while working to increase turnout among African Americans and Latinos. So while Jews, Asians, and gays are characterized as potential "fundraisers," African Americans and Hispanics are the ones the campaign needs to get to the polls in historic numbers, the document makes clear.
"This constituency group is critical," it says of the African Americans who make up much of Georgia's Democratic base, adding that Nunn must win "a very high percentage of the African-American vote" and attract "a large number of voters who do not typically turn out in an off-election year." The plan puts a particular emphasis on black clergy. It also highlights the need to "generate passion and enthusiasm" for Nunn in the black community. And it raises concern that Hispanics have not yet been "appropriately engaged" on her behalf.
That concern is reflective of the phenomenon that Bo Moore, who served as political director for former Georgia senator Paul Coverdell and as a strategist for Phil Gramm's presidential campaign, describes as the "two Georgias": Atlanta and the rest of the state. "Metro Atlanta is made up mostly of transplants from other parts of the country and then everything south and east of Atlanta is more traditional, rural, and southern," he says. African Americans also constitute over half of Atlanta's urban population.
The memos express concern that Nunn, who lives in an upper-class Atlanta neighborhood, will struggle to appeal to voters outside of the city. A document from the direct-mail firm
Ambrosino Muir Hansen Crounse
recommends sending small postcards featuring "Michelle and her family in rural settings with rural-oriented imagery" to "combat the notion that she is an Atlanta-based candidate uninterested in, or unfamiliar with, the rural parts of the state."
To compensate for her difficulties with rural white voters, Nunn's strategists emphasize the need to turn out blacks and Hispanics. "They know that in order to have a chance of winning, they've got to change the turnout from what it would ordinarily be in a midterm election," Kerwin Swint, a professor of politics at Atlanta's Kennesaw State University, said, when asked about the document's conclusions. Former Democratic senator Max Cleland won 30 percent of the white vote when he ran unsuccessfully for reelection in 2002, but since then no Georgia Democratic Senate candidate has come within striking distance of that number: In 2008, Jim Martin won just 26 percent of the white vote and in 2004, Denise Majette won less than a quarter of it. As the daughter of an enormously popular former senator, though, Nunn has the potential to pull it off.
Her strategists are optimistic that the media won't prove much of an obstacle. They write that at some point her opponent, who at the time the document was written had yet to be determined, will be "shoveling research" against her. But they say they anticipate they will often have "fair warning" about negative news stories and can work to "kill or muddy" them.
"I would love to know what kind of already-formed relationships they have in Atlanta and even in the national media that they're planning on using as sources and conduits of information," Swint says. "It's certainly interesting to see it in writing like that."
Democrats intensely recruited Nunn, and the seat, which is being vacated by Republican senator Saxby Chambliss, is widely considered their best pickup opportunity in the Senate of this election cycle. Though Nunn announced her candidacy last July, many of her positions have remained vague: She skipped most of the debates with her Democratic-primary opponents and
artfully dodged
questions on tricky political issues such as Obamacare.
Though the campaign plan recommends emphasizing Nunn's accomplishments at the Points of Light Foundation, which she has done on the campaign trail, her strategists express enormous concern about attacks that might arise from her work there. She has served as CEO of Points of Light since 2007 and, according to the document, it has
made grants
to "terrorists" and "inmates" during her tenure. The document also makes reference to a
2010 audit
that concluded Points of Light's accounting system was "not adequate to account for federal funds."
According to the IRS Form 990s that Points of Light filed in 2008 and 2011, the organization gave a grant of over $33,000 to Islamic Relief USA, a charity that says it strives to alleviate "hunger, illiteracy, and diseases worldwide." Islamic Relief USA is part of a global network of charities that operate under the umbrella of Islamic Relief Worldwide. Islamic Relief USA says on its website that it is a legally separate entity from its parent organization, but that they share "a common vision, mission, and family identity."
Islamic Relief Worldwide has ties to Hamas, which the U.S. designates as a terrorist organization. In June, Israel banned the charity from operating in the country because,
according to Israeli officials
, it was funneling cash to Hamas. In 2006, Israelis
arrested
Islamic Relief Worldwide's Gaza coordinator, Ayaz Ali. They said he was working to "transfer funds and assistance to various Hamas institutions and organizations." Ali admitted to cooperating with local Hamas operatives while working in Jordan and, on his computer, Israeli officials found photographs of "swastikas superimposed on IDF symbols," and of Nazi officials, Osama bin Laden, and al-Qaeda in Iraq leader Abu Musab al-Zarqawi.
Islamic Relief USA highlighted the work of Islamic Relief Worldwide in Palestine in its 2012
annual report
, in which it talks generally about the work of Islamic Relief charities in the region without drawing a distinction between the branches. The organization has raised eyebrows before. According to a 2012 report, its bank account was closed by UBS and it was "under constant scrutiny by other banks due to nervousness about counterterrorist regulations." The group's terror ties extend beyond Hamas, according to a former Israeli intelligence official. He says that Islamic Relief Worldwide's country director in Palestine, Muneed Abugazaleh, met in April 2012 with Dr. Omar Shalah, a leader of the terror group Islamic Jihad and of the Riyad al-Saleheen Charitable Society, which is affiliated with the group. He is also the brother of Ramadan Shalah, the leader of Islamic Jihad.
Nunn and the Hands On Network, which operates under the umbrella of Points of Light, also heaped praise on a former death-row inmate even after his continued run-ins with the law. Shareef Cousin is one of the contributors to Nunn's 2007 book,
Be the Change
, a collection of quotations and reflections from people who, according to Nunn, have embraced their "capacity to make a difference."
Cousin's inspiring story was bookended with troubling behavior. In 1996, at the age of 16, he became the country's youngest-ever death-row inmate. His conviction was overturned in 1998, but he remained in prison until 2005 on a 20-year sentence for armed robberies he had pled guilty to before his murder trial. In 2008, while he was still on parole, Cousin pleaded guilty to using his boss's Social Security number to obtain credit cards and then,
according to
the New Orleans
Times-Picayune
, using the cards for a "$42,000 spending spree on audio equipment and a paint job for his car." In August 2010, the HandsOn Network
recognized Cousin
as a "voice of change."
Former president George H. W. Bush founded the Points of Light Foundation in 1987 to encourage volunteerism across the country. Since Nunn became the CEO in 2007, it has awarded grants to hundreds of charitable groups, and the campaign document raises alarm bells about "grants to problematic entities" and "notable line items" in its 990 forms. It has given money to organizations whose charitable missions appear questionable, including the International Mountain Bicycling Association, which sponsors gatherings of mountain-biking "thought leaders," and the Lesbian and Gay Band Association, which seeks to foster a global network of lesbian and gay bands.
The Nunn campaign plan also contains details about messaging, fundraising, staffing, organization, and scheduling that are usually closely held. "All campaigns are kind of chaotic and mistakes happen," says Bo Moore, the Georgia Republican strategist, of the document's release online. "It was probably just an innocent mistake of the campaign."
The document in its entirety can be viewed below.
— Eliana Johnson is a national reporter for
National Review Online
.
-----------------------------------------------------------------------------------------------------------------------------
2)
Author: Khaled Abu Toameh
Source: Gatestone Institute.
The U.S. Administration's main objective in cease-fire talks is clearly to empower Muslim Brotherhood and its Palestinian branch, Hamas.
This is how the Palestinian Authority [PA] sees the recent efforts of U.S. Secretary of State John Kerry to achieve a cease-fire between Israel and Hamas.
It is no secret that the PA, Egypt, Saudi Arabia and the United Arab Emirates would like to see an end to Hamas's rule over the Gaza Strip. Moreover, they seem to support the idea of disarming Hamas as part of any agreement to end the current crisis.
PA President Mahmoud Abbas, who has been issuing strong condemnations of the Israeli "aggression" on the Gaza Strip over the past few weeks, is hoping that the war will result in the return of his loyalists to control the Gaza Strip or, at least to the Rafah border crossing with Egypt.
Abbas and his Arab allies are not going to shed a tear if Hamas is removed from power and the Gaza Strip is demilitarized at the end of the war.
There is growing concern in Ramallah, Cairo, Riyadh and Dubai, however, that the U.S. Administration is now working to prevent the collapse of Hamas.
This concern was reinforced by Secretary of State John Kerry's recent tour of the region. His trip ended with last week's Paris meeting to discuss the Israel-Hamas war.
That Kerry chose to invite Qatar and Turkey — the only two countries that support Hamas — to the conference was received with anger and shock by the Palestinian Authority and its Arab allies.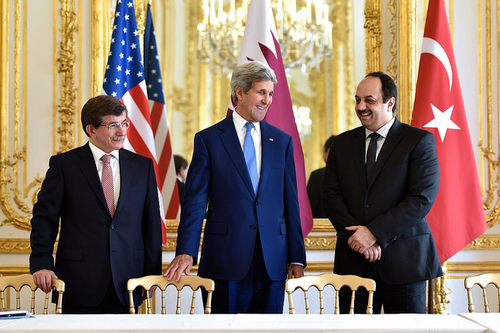 The Paris conference was actually a spit in the face of anti-Hamas forces in the Arab world.
By failing to invite the PA to the conference, Kerry indicated that he does not see any role for Abbas and his loyalists in a post-Hamas Gaza Strip. Kerry chose to conduct indirect negotiations with Hamas through their patrons in Doha and Ankara.
By ignoring Egypt, which considers Hamas a threat to its national security and has been conducting its own war against the Islamist movement over the past year, Kerry sent a message to the Arabs and Muslims according to which the U.S. Administration is on the side of the Muslim Brotherhood and its allies.
"Kerry is exploiting the war to restore the influence of Muslim Brotherhood in the region," charged a Palestinian official in Ramallah. "The Americans mistakenly think that moderate political Islam, represented by Muslim Brotherhood, would be able to combat radical Islam. The Americans are trying to bring the Muslim Brotherhood back to the region."
Another Palestinian official accused President Barack Obama and Kerry of organizing a "Friends of Hamas" conference in Paris. "How can you hold such a conference without inviting representatives of the Palestinian Authority and Egypt?" he asked. "Qatar and Turkey are happy to see the Obama Administration help them in their effort to save Hamas and embolden Muslim Brotherhood."
Alarmed by Kerry's alliance with Qatar and Turkey, Abbas flew earlier this week to Jeddah for emergency talks with Saudi King Abdullah bin Abdel Aziz.
According to a senior Abbas advisor, the Palestinian Authority president urged the Saudi monarch to exert pressure on the Obama Administration to keep Qatar and Turkey out of the picture.
The advisor said that Saudi Arabia voiced support for demands to demilitarize the Gaza Strip as part of any cease-fire agreement. "Demilitarizing the Gaza Strip would mean the end of Hamas," the advisor said. "The Egyptians, Saudis and other Arab countries also share this view. They are also upset with Kerry's effort to rely on Qatar and Turkey to solve the crisis. These two countries are interested in keeping Hamas in power."
Abbas and the PA continue to insist that any solution to the current crisis be achieved only through Egypt, which is interested in seeing an end to Hamas' rule over the Gaza Strip.
But the Obama Administration obviously does not share this view. It has chosen a different path — one that would result in keeping Hamas in power and empowering the Muslim Brotherhood at the expense of moderate, pro-Western Arabs and Muslims.
Palestinian officials in Ramallah made it clear this week that they no longer trust the US Administration because of Kerry's attempt to "appease" Qatar and Turkey at the expense of the Palestinian Authority and Egypt.
"Someone needs to remind Kerry that Qatar is not the sole and legitimate representative of the Palestinians," said a senior Palestinian official in Ramallah.
Another official, Ahmed Majdalani, warned that the Palestinians and Egyptians wouldn't allow Kerry to "bypass" their leaders and meddle in the internal affairs of the Palestinian people.
By siding with Qatar and Turkey, the Obama Administration is effectively expressing its opposition to the demilitarization of the Gaza Strip. Moreover, the Obama Administration now finds itself on the same side with Iran, which is also vehemently opposed to disarming Hamas.
By turning its back on the Palestinian Authority, Egypt and Saudi Arabia, the Obama Administration has paved the way for Iranian intervention in the conflict.
The Iranians, with whom the U.S. is negotiating on nuclear weapons — amid fears in the Middle East that the U.S. will capitulate to Tehran's demands if it has not effectively capitulated to them already — have now joined Qatar and Turkey in opposing any attempt to confiscate Hamas's weapons.
On Wednesday, a senior Iranian military official, Gen. Qassem Slimani, issued an unprecedented warning against any attempt to disarm Hamas and other terror groups in the Gaza Strip.
"Disarming the (Palestinian) resistance groups is an illusion and it will not happen," he said.
Such a warning would not have been issued had the Iranians not sensed weakness on the part of the Obama Administration. Hamas, the Muslim Brotherhood and their patrons in Qatar, Turkey and Iran are clearly satisfied with the way the Obama Administration is handling the conflict.
-------------------------------------------------------------------------------------------------------------------------------
Author: David D. Kirkpatrick
Source: The New York Times.
CAIRO — Battling Palestinian militants in Gaza two years ago, Israel found itself pressed from all sides by unfriendly Arab neighbors to end the fighting.
Not this time.
After the military ouster of the Islamist government in Cairo last year, Egypt has led a new coalition of Arab states — including Jordan, Saudi Arabia and the United Arab Emirates — that has effectively lined up with Israel in its fight against Hamas, the Islamist movement that controls the Gaza Strip. That, in turn, may have contributed to the failure of the antagonists to reach a negotiated cease-fire even after more than three weeks of bloodshed.
"The Arab states' loathing and fear of political Islam is so strong that it outweighs their allergy to Benjamin Netanyahu," the prime minister of Israel, said Aaron David Miller, a scholar at the Wilson Center in Washington and a former Middle East negotiator under several presidents.
"I have never seen a situation like it, where you have so many Arab states acquiescing in the death and destruction in Gaza and the pummeling of Hamas," he said. "The silence is deafening."
Although Egypt is traditionally the key go-between in any talks with Hamas — deemed a terrorist group by the United States and Israel — the government in Cairo this time surprised Hamas by publicly proposing a cease-fire agreement that met most of Israel's demands and none from the Palestinian group. Hamas was tarred as intransigent when it immediately rejected it, and Cairo has continued to insist that its proposal remains the starting point for any further discussions.
But as commentators sympathetic to the Palestinians slammed the proposal as a ruse to embarrass Hamas, Egypt's Arab allies praised it. King Abdullah of Saudi Arabia called President Abdel Fattah el-Sisi of Egypt the next day to commend it, Mr. Sisi's office said, in a statement that cast no blame on Israel but referred only to "the bloodshed of innocent civilians who are paying the price for a military confrontation for which they are not responsible."
"There is clearly a convergence of interests of these various regimes with Israel," said Khaled Elgindy, a former adviser to Palestinian negotiators who is now a fellow at the Brookings Institution in Washington. In the battle with Hamas, Mr. Elgindy said, the Egyptian fight against the forces of political Islam and the Israeli struggle against Palestinian militants were nearly identical. "Whose proxy war is it?" he asked.
The dynamic has inverted all expectations of the Arab Spring uprisings. As recently as 18 months ago, most analysts in Israel, Washington and the Palestinian territories expected the popular uprisings to make the Arab governments more responsive to their citizens, and therefore more sympathetic to the Palestinians and more hostile to Israel.
But instead of becoming more isolated, Israel's government has emerged for the moment as an unexpected beneficiary of the ensuing tumult, now tacitly supported by the leaders of the resurgent conservative order as an ally in their common fight against political Islam.
Egyptian officials have directly or implicitly blamed Hamas instead of Israel for Palestinian deaths in the fighting, even when, for example, United Nations schools have been hit by Israeli shells, something that occurred again on Wednesday.
And the pro-government Egyptian news media has continued to rail against Hamas as a tool of a regional Islamist plot to destabilize Egypt and the region, just as it has since the military ouster of President Mohamed Morsi of the Muslim Brotherhood one year ago. (Egyptian prosecutors have charged Hamas with instigating violence in Egypt, killing its soldiers and police officers, and even breaking Mr. Morsi and other Brotherhood leaders out of jail during the 2011 uprising.)
The diatribes against Hamas by at least one popular pro-government talk show host in Egypt were so extreme that the government of Israel broadcast some of them into Gaza.
"They use it to say, 'See, your supposed friends are encouraging us to kill you!' " Maisam Abumorr, a Palestinian student in Gaza City, said in a telephone interview.
Some pro-government Egyptian talk shows broadcast in Gaza "are saying the Egyptian Army should help the Israeli Army get rid of Hamas," she said.
At the same time, Egypt has infuriated Gazans by continuing its policy of shutting down tunnels used for cross-border smuggling into the Gaza Strip and keeping border crossings closed, exacerbating a scarcity of food, water and medical supplies after three weeks of fighting.
"Sisi is worse than Netanyahu, and the Egyptians are conspiring against us more than the Jews," said Salhan al-Hirish, a storekeeper in the northern Gaza town of Beit Lahiya. "They finished the Brotherhood in Egypt, and now they are going after Hamas."
Egypt and other Arab states, especially the Persian Gulf monarchies of Saudi Arabia and the United Arab Emirates, are finding themselves allied with Israel in a common opposition to Iran, a rival regional power that has a history of funding and arming Hamas.
For Washington, the shift poses new obstacles to its efforts to end the fighting. Although Egyptian intelligence agencies continue to talk with Hamas, as they did under former President Hosni Mubarak and Mr. Morsi, Cairo's new animosity toward the group has called into question the effectiveness of that channel, especially after the response to Egypt's first proposal.
As a result, Secretary of State John Kerry turned to the more Islamist-friendly states of Qatar and Turkey as alternative mediators — two states that grew in regional stature with the rising tide of political Islam after the Arab Spring, and that have suffered a degree of isolation as that tide has ebbed.
But that move has put Mr. Kerry in the incongruous position of appearing to some analysts as less hostile to Hamas — and thus less supportive of Israel — than Egypt or its Arab allies.
For Israeli hawks, the change in the Arab states has been relatively liberating.
"The reading here is that, aside from Hamas and Qatar, most of the Arab governments are either indifferent or willing to follow the leadership of Egypt," said Martin Kramer, president of Shalem College in Jerusalem and an American-Israeli scholar of Islamist and Arab politics. "No one in the Arab world is going to the Americans and telling them, 'Stop it now,' " as Saudi Arabia did, for example, in response to earlier Israeli crackdowns on the Palestinians, he said. "That gives the Israelis leeway."
With the resurgence of the anti-Islamist, military-backed government in Cairo, Mr. Kramer said, the new Egyptian government and allies like Saudi Arabia appear to believe that "the Palestinian people are to bear the suffering in order to defeat Hamas, because Hamas cannot be allowed to triumph and cannot be allowed to emerge as the most powerful Palestinian player."
Egyptian officials disputed that characterization, arguing that the new government was maintaining its support for the Palestinian people despite its deteriorating relations with Hamas, and that it had grown no closer to Israel than it was under Mr. Morsi or Mr. Mubarak.
"We have a historical responsibility toward the Palestinians, and that is not related to our stance on any specific faction," said a senior Egyptian diplomat, speaking on the condition of anonymity because of the sensitivity of the talks. "Hamas is not Gaza, and Gaza is not Palestine."
Egyptian officials noted that the Egyptian military and the Red Crescent had delivered medical supplies and other aid to Gaza. Cairo continues to keep open lines of communication with Hamas, including allowing a senior Hamas official, Moussa Abu Marzouq, to reside in Cairo.
Other analysts, though, argued that Egypt and its Arab allies were trying to balance their own overriding dislike for Hamas against their citizens' emotional support for the Palestinians, a balancing act that could grow more challenging as the Gaza carnage mounts.
"The pendulum of the Arab Spring has swung in Israel's favor, just like it had earlier swung in the opposite direction," said Mr. Elgindy, the former Palestinian adviser.
"But I am not sure the story is finished at this point."
Correction: July 30, 2014
---------------------------------------------------------------------------------------------------------------------------------
4)
Desperate Democrats Can't Escape Obama
Democrats are distancing themselves from the president across the country, even in blue states.
If they win, Grimes, Tennant and Udall will almost always vote with the Obama administration over the next two years, then spend four more largely voting in ways Obama would approve of. The parties are pretty unified these days ideologically.
What's more, voters seem to know it. Most candidates who try to separate themselves from their party's leadership end up losing. (There are occasional exceptions: In 2010, Joe Manchin was able to separate himself from Obama in West Virginia by running an ad in which he took a shotgun to a copy of the cap-and-trade bill the administration was backing. But he was already a popular governor.)
When there's a wave for one party or the other in an election, voters simply don't seem to do much discriminating among the candidates. Bob Ehrlich was a successful governor of Maryland in 2006, when he ran for re-election. But that was a terrible year for Republicans. He was a moderate and had healthy approval ratings. None of it saved him. He was brought down by the unpopularity of the Iraq war, even though, as a governor, he had nothing to do with it.
When a candidate tries to separate himself from his party's leadership, he's assuming that the party's core supporters will understand that he needs to do it: that the checks will keep arriving and the activists will keep knocking on doors. But there's always the risk of demoralization.
To contact the writer of this article: Ramesh Ponnuru at rponnuru@bloomberg.net
----------------------------------------------------------------------------------------------------