<
++++++++++++++++++++++++++++++++++++++++++++++++++++++++++++++++
Why is the government so bad at health care? Why did Obamacare make health insurance costs go up, and access to medical services go down? The short answer, as six-term Congressman Bob McEwen explains, is that when bureaucrats and politicians spend other people's money for services they won't themselves consume, only bad things happen.
Watch our new video
to understand why.
And
WOW:
https://m.youtube.com/watch?v=hER0Qp6QJNU
++++++++++++++++++++++++++++++++++++
More on Iran's pursuit of territorial dominance. (See 1 below.)
+++++++++++++++++++++++++++++++++++
He says it all. (See 2 below.)
+++++++++++++++++++++++++
There is something about the truth that escapes public officials and most, if not all, humans. They just do not believe Clorox works. (See 3 and 3a below.)
++++++++++++++++++++++++++++++
Dick
+++++++++++++++++++++++
1)
Iran leases air, land and sea bases in Syria
The leases are part of Iranian plan to permanently base fighter aircraft and roughly 5,000 militiamen capable of striking Israel; plan part of larger Iranian strategy to forge territorial and maritime contiguity in the Middle East.
Iran has leased a military airfield from the Syrian government in the center of the country in order to station fighter aircraft. Iran is also negotiating with the Syrians to establish a land base for Shiite militiamen and a port in the city of Tartus.
The land base would be an Iranian autonomous base capable of supporting 5,000 Iranian militiamen believed to be mercenaries from Afghanistan and Pakistan under the command of the Iranian Revolutionary Guards.
These steps represent a move by Iran to establish a long-term presence in Syria and pose a threat to Israel.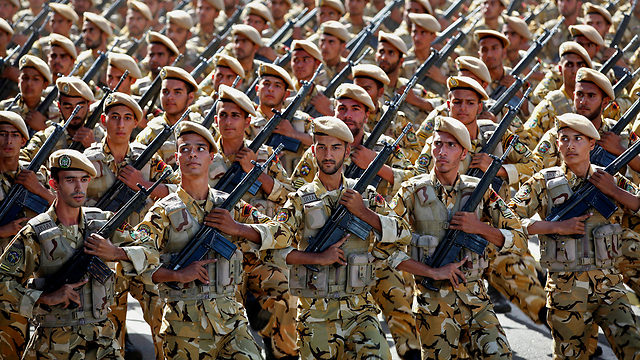 They also represent an annexation plan by Iran to take control of a series of territory in the Middle East with the goal being to create territorial and maritime contiguity from Iran to Lebanon, Sudan, the Gulf, Saudi Arabia, and on to Iraq and Jordan before reaching the Israeli border.
Intelligence sources in the West note that the Iranian measures are reminiscent of a similar move by the Russians in 2015, in which the Khmeimim airport in Syria was leased, setting up an air force and declaring the region autonomously Russian.
In an interview published Thursday with leading Russian newspaper "Kommersant," Minister of Defense Avigdor Lieberman warned against Iranian entrenchment in Syria.
+++++++++++++++++++++++++++++++++++++++++++++
2)
He Fights
My Leftist friends (as well as many ardent #NeverTrumpers) constantly ask me if I'm not bothered by Donald Trump's lack of decorum. They ask if I don't think his tweets are "beneath the dignity of the office." Here's my answer:
We Right-thinking people have tried dignity. There could not have been a man of more quiet dignity than George W. Bush as he suffered the outrageous lies and politically motivated hatreds that undermined his presidency. We tried statesmanship. Could there be another human being on this earth who so desperately prized "collegiality" as John McCain? We tried propriety – has there been a nicer human being ever than Mitt Romney? And the results were always the same.
This is because, while we were playing by the rules of dignity, collegiality and propriety, the Left has been, for the past 60 years, engaged in a knife fight where the only rules are those of Saul Alinsky and the Chicago mob.
I don't find anything "dignified," "collegial" or "proper" about Barack Obama's lying about what went down on the streets of Ferguson in order to ramp up racial hatreds because racial hatreds serve the Democratic Party. I don't see anything "dignified" in lying about the deaths of four Americans in Benghazi and imprisoning an innocent filmmaker to cover your tracks. I don't see anything "statesman-like" in weaponizing the IRS to be used to destroy your political opponents and any dissent. Yes, Obama was "articulate" and "polished" but in no way was he in the least bit "dignified," "collegial" or "proper."
The Left has been engaged in a war against America since the rise of the Children of the '60s. To them, it has been an all-out war where nothing is held sacred and nothing is seen as beyond the pale. It has been a war they've fought with violence, the threat of violence, demagoguery and lies from day one – the violent take-over of the universities – till today.
The problem is that, through these years, the Left has been the only side fighting this war. While the Left has been taking a knife to anyone who stands in their way, the Right has continued to act with dignity, collegiality and propriety.
With Donald Trump, this all has come to an end. Donald Trump is America's first wartime president in the Culture War.
During wartime, things like "dignity" and "collegiality" simply aren't the most essential qualities one looks for in their warriors. Ulysses Grant was a drunk whose behavior in peacetime might well have seen him drummed out of the Army for conduct unbecoming. Had Abraham Lincoln applied the peacetime rules of propriety and booted Grant, the Democrats might well still be holding their slaves today. Lincoln rightly recognized that, "I cannot spare this man. He fights."
General George Patton was a vulgar-talking, son-of-a-bitch. In peacetime, this might have seen him stripped of rank. But, had Franklin Roosevelt applied the normal rules of decorum, then Hitler and the Socialists would barely be five decades into their thousand-year Reich.
Trump is fighting. And what's particularly delicious is that, like Patton standing over the battlefield as his tanks obliterated Rommel's, he's shouting, "You magnificent bastards, I read your book!" That is just the icing on the cake, but it's wonderful to see that not only is Trump fighting, he's defeating the Left using their own tactics.
That book is Saul Alinsky's Rules for Radicals – a book so essential to the Liberals' war against America that it is and was the playbook for the entire Obama administration and the subject of Hillary Clinton's senior thesis. It is a book of such pure evil, that, just as the rest of us would dedicate our book to those we most love or those to whom we are most indebted, Alinsky dedicated his book to Lucifer.
Trump's tweets may seem rash and unconsidered but, in reality, he is doing exactly what Alinsky suggested his followers do.
First, instead of going after "the fake media" – and they are so fake that they have literally gotten every single significant story of the past 60 years not just wrong, but diametrically opposed to the truth, from the Tet Offensive to Benghazi, to what really happened on the streets of Ferguson, Missouri – Trump isolated CNN. He made it personal. Then, just as Alinsky suggests, he employs ridicule which Alinsky described as "the most powerful weapon of all."
Everyone gets that it's not just CNN – in fact, in a world where Al Sharpton and Rachel Maddow, Paul Krugman and Nicholas Kristof are people of influence and whose "reporting" is in no way significantly different than CNN's – CNN is just a piker.
Most importantly, Trump's tweets have put CNN in an untenable and unwinnable position. With Trump's ability to go around them, they cannot simply stand pat. They need to respond. This leaves them with only two choices.
They can either "go high" (as Hillary would disingenuously declare of herself and the fake news would disingenuously report as the truth) and begin to honestly and accurately report the news or they can double-down on their usual tactics and hope to defeat Trump with twice their usual hysteria and demagoguery.
The problem for CNN (et al.) with the former is that, if they were to start honestly reporting the news, that would be the end of the Democratic Party they serve. It is nothing but the incessant use of fake news (read: propaganda) that keeps the Left alive.
Imagine, for example, if CNN had honestly and accurately reported then-candidate Barack Obama's close ties to foreign terrorists (Rashid Khalidi), domestic terrorists (William Ayers), the mafia (Tony Rezko) or the true evils of his spiritual mentor, Jeremiah Wright's, church.
Imagine if they had honestly and accurately conveyed the evils of the Obama administration's weaponizing of the IRS to be used against their political opponents or his running of guns to the Mexican cartels or the truth about the murder of Ambassador Christopher Stevens and the Obama administration's cover-up.
This makes "going high" a non-starter for CNN. This leaves them no other option but to ratchet up the fake news, conjuring up the next "nothing burger" and devoting 24 hours a day to hysterical rants about how it's "worse than Nixon."
This, obviously, is what CNN has chosen to do. The problem is that, as they become more and more hysterical, they become more and more obvious. Each new effort at even faker news than before and faker "outrage" only makes that much more clear to any objective observer that Trump is and always has been right about the fake news media.
And, by causing their hysteria, Trump has forced them into numerous, highly embarrassing and discrediting mistakes. Thus, in their desperation, they have lowered their standards even further and run with articles so clearly fake that, even with the liberal (lower case "l") libel laws protecting the media, they've had to wholly retract and erase their stories repeatedly.
Their flailing at Trump has even seen them cross the line into criminality, with CNN using their vast corporate fortune to hunt down a private citizen for having made fun of them in an Internet meme. This threat to "dox" – release of personal information to encourage co-ideologists to visit violence upon him and his family -- a political satirist was chilling in that it clearly wasn't meant just for him. If it were, there would have been no reason for CNN to have made their "deal" with him public.
Instead, CNN – playing by "Chicago Rules" – was sending a message to any and all: dissent will not be tolerated.
This heavy-handed and hysterical response to a joke on the Internet has backfired on CNN, giving rise to only more righteous ridicule.
So, to my friends on the Left – and the #NeverTrumpers as well -- do I wish we lived in a time when our president could be "collegial" and "dignified" and "proper"? Of course I do. These aren't those times. This is war. And it's a war that the Left has been fighting without opposition for the past 50 years.
So, say anything you want about this president – I get it, he can be vulgar, he can be crude, he can be undignified at times. I don't care. I can't spare this man. He fights.
++++++++++++++++++++++++++++++++++++++++++++++++++++++++++
3)
The Trumps and the Truth
The best defense against future revelations is radical transparency.
Even Donald Trump might agree that a major reason he won the 2016 election is because voters couldn't abide Hillary Clinton's legacy of scandal, deception and stonewalling. Yet on the story of Russia's meddling in the 2016 election, Mr. Trump and his family are repeating the mistakes that doomed Mrs. Clinton.
That's the lesson the Trumps should draw from the fiasco over Don Jr.'s June 2016 meeting with Russians peddling dirt on Mrs. Clinton. First Don Jr. let news of the meeting leak without getting ahead of it. Then the White House tried to explain it away as a "nothingburger" that focused on adoptions from Russia.
When that was exposed as incomplete, Don Jr. released his emails that showed the Russian lure about Mrs. Clinton and Don Jr. all excited—"I love it." Oh, and son-in-law Jared Kushner and Beltway bagman Paul Manafort were also at the meeting. Don Jr. told Sean Hannity this was the full story. But then news leaked that a Russian-American lobbyist was also at the meeting.
Even if the ultimate truth of this tale is merely that Don Jr. is a political dunce who took a meeting that went nowhere—the best case—the Trumps made it appear as if they have something to hide. They have created the appearance of a conspiracy that on the evidence Don Jr. lacks the wit to concoct. And they handed their opponents another of the swords that by now could arm a Roman legion.
***
Don't you get it, guys? Special counsel Robert Mueller and the House and Senate intelligence committees are investigating the Russia story. Everything that is potentially damaging to the Trumps will come out, one way or another. Everything. Denouncing leaks as "fake news" won't wash as a counter-strategy beyond the President's base, as Mr. Trump's latest 36% approval rating shows.
Mr. Trump seems to realize he has a problem because the White House has announced the hiring of white-collar Washington lawyer Ty Cobb to manage its Russia defense. He'll presumably supercede the White House counsel, whom Mr. Trump ignores, and New York outside counsel Marc Kasowitz, who is out of his political depth.
Mr. Cobb has an opening to change the Trump strategy to one with the best chance of saving his Presidency: radical transparency. Release everything to the public ahead of the inevitable leaks. Mr. Cobb and his team should tell every Trump family member, campaign operative and White House aide to disclose every detail that might be relevant to the Russian investigations.
That means every meeting with any Russian or any American with Russian business ties. Every phone call or email. And every Trump business relationship with Russians going back years. This should include every relevant part of Mr. Trump's tax returns, which the President will resist but Mr. Mueller is sure to seek anyway.
Then release it all to the public. Whatever short-term political damage this might cause couldn't be worse than the death by a thousand cuts of selective leaks, often out of context, from political opponents in Congress or the special counsel's office. If there really is nothing to the Russia collusion allegations, transparency will prove it. Americans will give Mr. Trump credit for trusting their ability to make a fair judgment. Pre-emptive disclosure is the only chance to contain the political harm from future revelations.
This is the opposite of the Clinton stonewall strategy, which should be instructive. That strategy saved Bill Clinton's Presidency in the 1990s at a fearsome price and only because the media and Democrats in Congress rallied behind him. Mr. Trump can't count on the same from Republicans and most of the media want him run out of office.
If Mr. Trump's approval rating stays under 40% into next year, Republicans will begin to separate themselves from an unpopular President in a (probably forlorn) attempt to save their majorities in Congress. If Democrats win the House, the investigations into every aspect of the Trump business empire, the 2016 campaign and the Administration will multiply. Impeachment will be a constant undercurrent if not an active threat. His supporters will become demoralized.
***
Mr. Trump will probably ignore this advice, as he has most of what these columns have suggested. Had he replaced James Comey at the FBI shortly after taking office in January, for example, he might not now have a special counsel threatening him and his family.
Mr. Trump somehow seems to believe that his outsize personality and social-media following make him larger than the Presidency. He's wrong. He and his family seem oblivious to the brutal realities of Washington politics. Those realities will destroy Mr. Trump, his family and their business reputation unless they change their strategy toward the Russia probe. They don't have much more time to do it.
Our beloved, corrupt, low-life president
.
It is much worse than you thought. It is much, much worse.
I can reveal that the president is a serial philanderer who is compulsively unfaithful to his wife. He suffers from severe medical problems, which he and his staff are concealing from the press. One of his mistresses is also romantically involved with a notorious gangster.
Speaking of organized crime, I understand that his campaign, to get elected, called on the Mafia for assistance. They plan to wiretap human rights activists.
In foreign policy, the story is even worse. He is planning an invasion of a hostile country, which is almost certain to fail disastrously. He has established a secret back-channel which he intends to use in times of crisis to communicate secretly with the Kremlin. Yet he is willing to risk nuclear war. And he has no objection to the assassination of political enemies and coups against allied governments.
The president I have just described is not Donald J. Trump but John F. Kennedy. This is not "what about-ism" — in other words, I am not trying to excuse the fact that President Trump's son appears to have colluded (or at least considered colluding) with the Russian government last year. I am merely pointing out that these two presidents — one loved by liberals, the other loathed — have more in common than you may think
As is now well known, Kennedy had numerous extramarital affairs. One was with Judith Campbell, whose other lovers included the Chicago organized crime boss Sam Giancana and his sidekick Johnny Roselli.
His compulsive infidelity to his wife was only one of Kennedy's many deceptions. Throughout his political career, he concealed the severity of his medical problems (he suffered from acute back pain, hypothyroidism, and Addison's disease).
His campaign may have called on Mafia assistance to defeat Richard Nixon in 1960. He appointed his brother Robert as attorney general. Bobby Kennedy authorized the wiretapping of Martin Luther King, Jr.
In foreign policy, Kennedy combined callousness with recklessness. His questionable interventions ranged from an abortive invasion of Cuba to a bloody coup d'état in South Vietnam. On his watch, the Central Intelligence Agency sought to assassinate Fidel Castro using Mafia hit-men. On his watch, the Berlin Wall was built, the ugliest symbol of the Cold War division of the world. And on his watch, the world came closer than at any other time to nuclear Armageddon, during the 1962 Cuban Missile Crisis. How was catastrophe averted? By using a back channel to the Kremlin to cut a secret deal.
John F. Kennedy occupies a unique position in American collective memory. In a Gallup poll conducted in November 2013, 74 percent of Americans rated him as an outstanding or above-average president, compared with 61 percent for Ronald Reagan and 49 percent for Dwight Eisenhower. In a 2011 poll, 11 percent of Americans named Kennedy as the greatest of all U.S. presidents. His reputation is not wholly a consequence of his assassination on November 22, 1963, greatly though that event continues to fascinate the public. He continues to be remembered fondly, for his good looks as much as the idealistic rhetoric of his speeches.

+++++++++++++++++++++++++++++++++++++++++++