Upholding personal rights under our constitution is judicially commendable.
However, when the person involved is an admitted gang member, a dope peddler and came to our country illegally the Judge's ruling skates on very thin ice. You decide. (See 1 below.)
++++++++++++++++++++++++++++
This professor should be fired. It is time to start draining swamps on college campuses as well. (See 2 below.)
+++++
I do believe we have structural problems born out of our over sized deficits, bloated government and its oppressive impact on our economy. There is a direct correlation between government growth and economic stagnation.
Since Congress is spending your hard earned sweat they will talk about the unbalanced budget but will do nothing because balancing means goring oxen and risking losing elections.
At some point the piper will present his bill and all hell will break loose. It is inevitable. If only I could predict when with some certitude. (See 3 below.)
++++++++++++++++++++++++
Putin proved successful in making sure our recent election was compromised and Democrats have been successful in ensnaring Trump in the process as they seek to overturn their loss by referencing collusion and Watergate.
Meanwhile, liberal justices have been successful in blocking Trump from restraining, temporarily, terrorists from entering our country and today a policeman was stabbed at the Flint, Michigan airport by a terrorist.
Tuesday another Democrat went down in defeat after outsiders threw more than 25 million dollars at his candidacy. (See 4 below.)
Is there any linkage between the three facts I have just posted? I believe there is loosely speaking but you decide.
______________________
This op ed squares with my own thinking. Now way past time for Trump to show his mettle. (See 5 below.)
++++++++++++++++++++++
Will Israel be dragged into war with Hamas because of Abbas's desire to retake Gaza? (See 6 below.)
++++++++++++++++++
Dick
++++++++++++++++++++++++++++++
Fro Judicial Watchdog Blog
An Obama-appointed federal judge in Virginia ordered an illegal immigrant member of a violent street gang released from prison because immigration authorities supposedly violated his rights when he entered the U.S. illegally through Mexico. The Honduran teen crossed the Rio Grande during the influx of illegal alien minors a few years ago and turned himself into the U.S Border Patrol, according to a lengthy mainstream
newspaper article
, after acknowledging his gang history. The feds held him without a hearing in Virginia because he's also a known drug dealer, but this month he was freed by U.S. District Judge Elizabeth K. Dillon. The judge ruled that, by holding the illegal alien gang banger without a hearing, the government violated his rights to due process and family unity.
Here's an excerpt from the newspaper article, which refers to the release as remarkable: "For immigration advocates, U.S. District Judge Elizabeth K. Dillon's June 1 order was a major legal victory over the Office of Refugee Resettlement (ORR), the federal agency charged with caring for children apprehended at the border without their parents. The decision could lead to the release of dozens, perhaps hundreds, of long-detained unaccompanied minors, they said. The teen's release was remarkable for another reason: Before coming to the United States, he had sold drugs and witnessed murders as a member of MS-13. The violent street gang is on the rise in the United States, fueled, in part, by the surge in unaccompanied minors. MS-13 has been linked to dozens of recent killings, from the Washington area to Long Island, Boston and Houston. President Trump and Attorney General Jeff Sessions have voiced alarm about MS-13 and the way it has taken advantage of the U.S. immigration system."
Some 150,000 Unaccompanied Alien Children (UAC)—mostly from Central America—entered the U.S. through the Mexican border under the Obama administration and this disturbing case out of Virginia is one of many illustrating the threat they represent to the American public. Judicial Watch has covered and investigated the UAC influx for years and has obtained public records from the various government agencies responsible for relocating the illegal alien minors throughout the country. From the moment the UACs began arriving in 2014, sources in the Department of Homeland Security (DHS) told Judicial Watch that the nation's most violent street gangs—including the MS-13—were actively
recruiting
new members at U.S. shelters housing the illegal immigrant minors and that they used Red Cross phones to communicate. Both the MS-13 and the 18th Street gangs embarked on a recruiting frenzy at the various facilities housing the newly arrived illegal aliens, according to Judicial Watch's law enforcement sources. The UACs also brought in dangerous diseases— including swine flu, dengue fever, Ebola virus and tuberculosis—and occupied the nation's military bases as shelters.
The MS-13 is a
feared street gang
of mostly Central American illegal immigrants that's spread throughout the U.S. and is renowned for drug distribution, murder, rape, robbery, home invasions, kidnappings, vandalism and other violent crimes. The Justice Department's National Gang Intelligence Center (NGIC) says criminal street gangs like the MS-13 are responsible for the majority of violent crimes in the U.S. and are the primary distributors of most illicit drugs. A year after the Obama administration began allowing droves of UACs to remain in the U.S., the Texas Department of Public Safety confirmed that the MS-13 emerged as a top tier gang in the Lone Star State thanks to the influx of illegal alien gang members that crossed into the state the previous year. In an alarming
19-page report
, the agency writes that the number of MS-13 members encountered by U.S. Border Patrol in the Rio Grande Valley sector increased each year, accelerating in 2014 and coinciding with increased illegal immigration from Central America during the same period. This clearly refers to the UAC crisis that saw thousands of illegal immigrants—many with criminal histories—storm into the U.S. in a matter of months. Authorities in Texas predict the problem will only get worse. "Gang members from Guatemala, Honduras, and El Salvador could be destined for locations in Texas with large Central American communities, including the Houston and Dallas areas," the Texas Department of Safety writes in its report. Even if that doesn't materialize, the state already has a serious gang crisis. "Reports of increased MS-13 gang activity have already surfaced in the Houston area," the Department of Safety confirms. "MS-13 gang members are known for highly violent crimes, including brutal murders and dismemberments. Several recent crimes in Texas illustrate the criminal threat associated with MS-13."
Here are some gruesome examples included in the agency's report: "On September 15, 2014, the mutilated body of a 14-year-old middle school student was discovered in the woods near Houston after he was murdered with a machete. Initial information from the investigation indicates the victim was a U.S. citizen and an MS-13 member who was murdered after trying to leave the gang. In October 2014, a 14-year-old and three adult males were arrested and charged with murder in this case. The adult males are from El Salvador, and at least two are documented MS-13 gang members. In mid-August 2014, a 29-year-old 18th Street gang member was stabbed to death in Houston by a 16-year-old El Salvadoran member of MS-13. The victim suffered multiple stab wounds outside of a bar and was discovered a few days later in a bayou. According to investigators, the juvenile suspect revealed he illegally crossed into the U.S. in March 2014." Another huge concern is the relationship between street gangs and Mexican drug cartels, the report says, because it's a very profitable partnership. "These groups pose the greatest gang threat to Texas due to their relationships with Mexican cartels, high levels of transnational criminal activity, level of violence, and overall statewide presence." The lucrative gang/cartel business endeavors are also expanding into human smuggling and gambling, the Texas Department of Safety reveals in its report.
The recently freed MS-13 member will live with relatives in Kentucky, the news story says, further revealing that it's not the only case of a UAC with gang ties being released by the feds. The mainstream media won't identify the gangbanger because he's 17-years-old and they want to protect his "safety." The article quotes Attorney General Jeff Sessions confirming this: "If they come as undocumented minors, the federal government transports them wherever in the interior they say they'd like to go. The bad guys know how this system works, and they have exploited it." Just last week the same newspaper, Washington D.C.'s largest, published a piece titled "
MS-13 gains recruits and power in U.S. as teens surge across border
" that analyzes dozens of court cases and includes startling anecdotes of UACs with gang ties. "In the Washington region alone, at least 42 young people who crossed into the United States by themselves have been involved in MS-13 violence over the past three years," the article states. "That includes 19 charged in connection with slayings or attempted slayings and four who were killed." After years of relative quiet, the MS-13 has made a comeback, the news probe discovered, and it's been fueled by the recent influx of illegal alien teens. "The rise in violence has hit especially hard on Long Island and in Boston, Houston and the D.C. area, with authorities linking dozens of killings to the gang," the article says.
++++++++++++++++++++++++++
2)
Professor Calls Whites 'Inhuman A**holes,' Tells Blacks to 'Let Them F*cking Die'
Mere days after a Bernie Sanders supporter shot Congressman Steve Scalise and two black members of his police detail, a Connecticut professor posted a Medium article on Facebook declaring: "Let Them F*cking Die." The professor went on to write that white people are "inhuman a**holes" who still prop up a "white supremacy system," so black people should not help them if their lives are in danger.
How should the allegedly oppressed "end this now"? Another post explained that. "It is past time for the racially oppressed to do what people who believe themselves to be 'white' will not do, put end to the vectors of their destructive mythology of whiteness and their white supremacy system," Williams added in another post, including the hashtag #LetThemF*ckingDie.
On Thursday, Williams also posted a
Medium article by that very title
, which lamented that black Capitol Police officers who were assigned to Scalise's detail had acted to protect him. The article, posted under a pseudonym, advocated letting white people die, as a form of combatting white supremacy.
What does it mean, in general, when victims of bigotry save the lives of bigots?

For centuries, black people have been regarded as sub-human workhorses whose entire purpose is to serve white people's whimsies.

For centuries, queer people have been regarded as sub-human degenerates whose whole existence was an anathema to cisgender heterosexual people's off-hand sensibilities.
The article attacked even the idea of morality as a tool for the immoral to oppress the moral. "They, these white/cisgender/heterosexuals, have created entire systems, philosophies, and values in which goodness, peace, and benevolence are virtues — but only, always, in other people. In themselves, though, it is only ever pretense."
++++++++++++++++++++++++++
3)
So We Are In Secular Stagnation...
By Charles Gave
…really? I would advise readers to consider the chart below.
On first blush, its lower pane supports the stagnationist camp. After all, both the US and France have seen a slump in their "structural" GDP growth rate, as shown by the seven year moving average. Since 1977 this measure has fallen by a third in the US, and by two thirds in France. Yet, look at the chart's top pane and it is clear that this growth slump has hardly been generalized. Since the late 1970s, Sweden, the UK and Switzerland have seen their growth rates rise structurally, and the same pattern can be found with Canada, Germany and Australia.
Cause and effect
So why have certain economies tumbled into relative decline, while others have not? A useful approach may be to compare France and the UK, which are similar in size, population and demographic profile. Both countries are European Union members with big banking sectors that in recent decades have had to manage profound de-industrialization.
Consider the chart below which shows a ratio of real GDP in France and the UK. No adjustment is made for currency movements as this will introduce unnecessary noise into the analysis. The obvious point is that between 1955 and 1981, France's economy massively outperformed the UK's. Since 1981, the reverse has been true.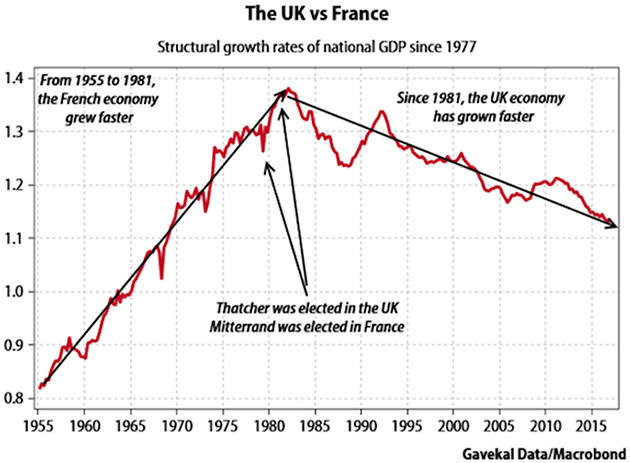 The trend change corresponded to a political shift in both countries as to the proper role of the state. Under Margaret Thatcher, the UK forged a new path by lessening the role of civil servants in managing economic activity. In France, François Mitterrand expressly aimed to expand the scope of government.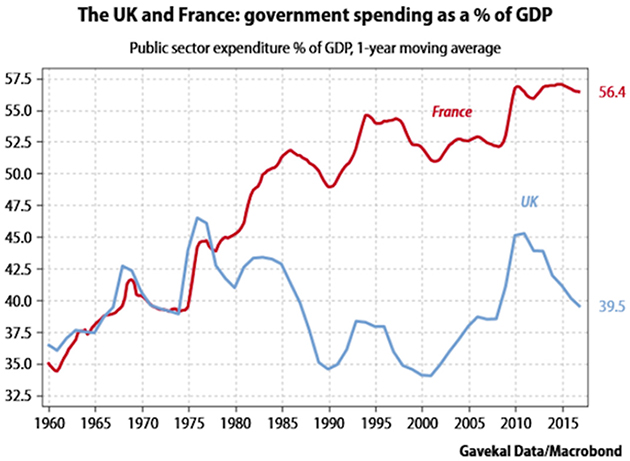 To be sure, the UK Labour Party got back into power in the late 1990s and spent the next decade running socialist policies that caused government spending as a share of output to rocket higher. Fortunately, sanity was restored after 2010 when a Conservative-led government dialed back UK public spending. In France, the picture is different as there have not been politically-inspired changes in the trend of government spending—the ratio has simply ground higher, irrespective of who was in power.
The next task is to explore potential cause-and-effect linkages between public spending and the divergence in the structural growth rates of France and the UK. As such, consider the chart below which reconciles growth and government spending in the two economies.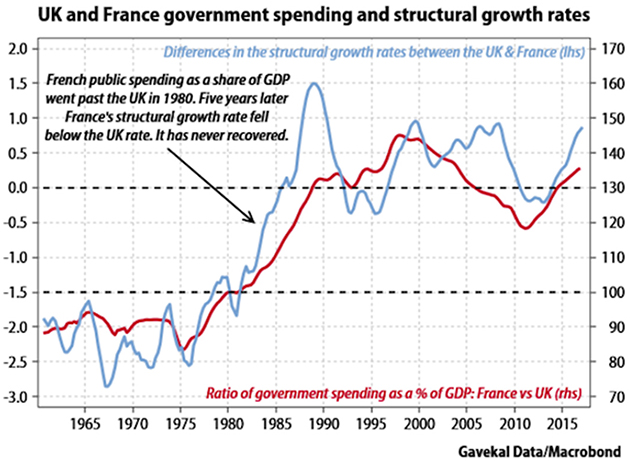 The chart above shows that in 1980 France started to spend more on government than the UK. By 1985, France's structural growth rate slid below the UK rate and has not recovered. The logic behind this chart has been borne out in many economies: beyond a certain threshold (that varies by country) more state spending causes the structural growth rate to fall. This relationship follows, as in a government-dominated economy "destruction" of inefficient activity is all but impossible, which in turn limits the scope for fresh "creation". This insight was explained by Joseph Schumpeter in his 1942 book Capitalism, Socialism and Democracy.
What about the US?
In the US, a similarly straight forward picture emerges, with the big increase in government spending that took place after 2009 being the main cause of the subsequent decline in the US's structural growth rate.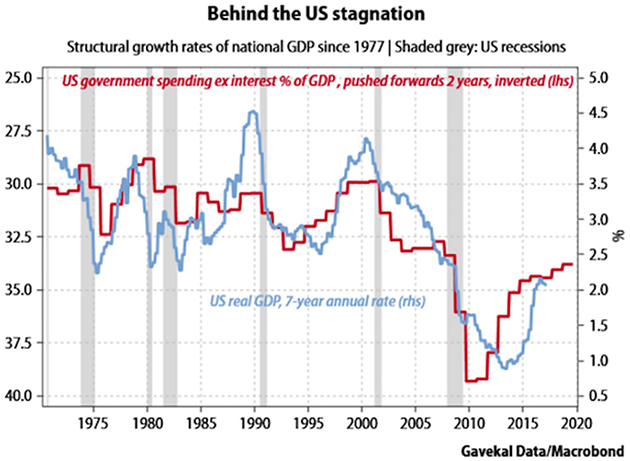 By way of contrast, consider the reverse case of Canada, which in the mid-1990s slashed government spending to good effect. In two years Canadian government spending was cut from 31% of GDP to about 25%. The ensuing 18 months saw predictable howls of protest from economists that a depression must follow. In fact, not only was a recession avoided but Canada's structural growth rate quickly picked up and in the next two decades a record uninterrupted economic expansion was achieved.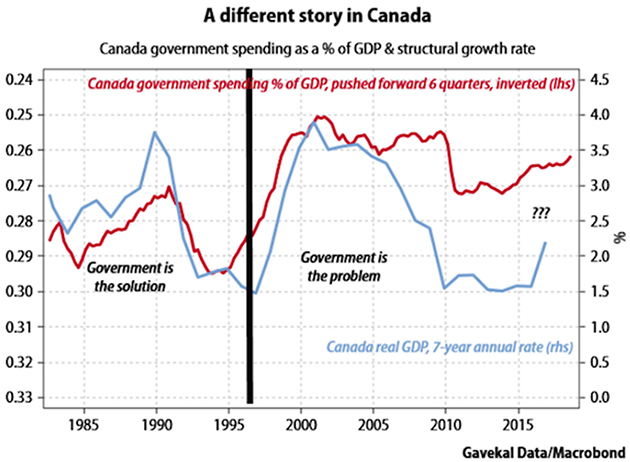 As an aside, I would ask readers to cite one case in the post-1971 fiat money era when a big rise in government spending did not lead to a structural slowdown. Alternatively, if they could cite an episode when cuts to public spending resulted in the growth rate falling. I am always willing to learn and change my mind!
To conclude, "secular stagnation" is an idea of ivory towered economists. Schumpeter showed how bloated government and unnecessary regulation crimps activity. The perhaps unfashionable answer remains to privatize state enterprises, deregulate markets and break up too-big-too-fail banks. In simple terms, some government is good; too much government is bad.
++++++++++++++++++++++++++++
4)
How'd that referendum on Trump work out?
The special election in the 6th District of Georgia was universally billed "
a high-stakes referendum on Trump
" in all
the much hyped build-up coming from the left and its media allies. Not a local election, not a fluke election. A
moment-of-truth Referendum on Trump.
After all, weren't President Trump's poll numbers down? Didn't the "resistance" put on a mega-protest show and
continue its tantrum in all the days-of-rage riots on college campuses? Wasn't President Trump engulfed in scandal
for colluding with the Russians to win the 2016 election that was rightfully Hillary Clinton's? Weren't the leftists
whispering, "President Pence"?
Rubbing their mousy hands together with glee, it's pretty clear that leftists thought they had a certain victory in the
bag with that "narrative," along with a perfect post-election analysis, no matter what the Georgia voters thought
about it.
Get a load of this now comical pompous pre-election analysis that ran earlier this week in the New York Times
(emphasis mine):
The hard-fought battle for Mr. Price's seat in Atlanta's northern reaches has not only become a financial

arms race – by far the most expensive House contest in history –

it has evolved into one of the most

consequential special elections in decades

.
Republicans, weighed down by
Mr. Trump's growing unpopularity
, must demonstrate
they can separate themselves from the president
enough to hold suburban districts that only now are becoming battlegrounds.
And Democrats, facing a restive base hungry for victory after disappointing losses in Montana and Kansas, are under pressure to show they can notch something more than a moral victory in the sort of affluent seat they will need in order to take back the House majority.
An outright win in Georgia would serve as validation of the party's overall strategy.
Didn't turn out as they thought it would.
So it was a referendum on Trump? Maybe so. Lookee here: what were the locals saying when Karen Handel won the special election last night? From the Atlanta Journal Constitution:
Handel thanked President Donald Trump and other prominent Republicans who supported her in the nationally watched runoff, leading to cheers of "Trump, Trump, Trump" from the crowd at the Hyatt Regency in Dunwoody.
Trump! Trump! Trump! Guess it really was a referendum, but not with the "narrative" Ben Rhodes and all his fellow Democratic Party coevals and media toadies thought it would be. Apparently, hating Trump is not sufficient to win elections these days.
The reality it shows is that Georgia voters and Americans in general are tired as heck of the left's kitchen-sink Energizer Bunny-style efforts to delegitimize President Trump – whether through tantrums, thuggery, lawsuits, special prosecutors, fake news, gobs and gobs of campaign cash, or "any means necessary."
Handel wasn't always riding high in the polls, but when it came down to brass tacks and the coinciding news was in all the disgusting efforts to stop President Trump and the agenda the people elected him to accomplish back in Washington, Handel's numbers crossed the victory threshold.
Democrats, of course, are horrified, though some are trying to put the best possible face on it, and others are vowing to double down on extremism.
What they won't do is take an honest look at themselves and why voters chose Trump.
There are two things to observe about this.
One is an observation from Peggy Noonan, who pointed out a few months ago that Trump's support isn't likely to tank or fade for the simple reason that voters took a long time to make up their mind on whether to support Trump. Making that mental "investment," they weren't about to scrap it over something small or stupid.
The other thing is that Democrats have yet to confront the problem as to why they are losing elections. The big reason is that they have swung hard left on every single issue they once had moderates on – immigration, government spending, health care, law and order, terrorism. In every single instance, it's a stance that benefits some special interest group and leaves the average voter with the bill.
What's more, it's a creepy kind of left-wingery – one that benefits corporate interests at the expense of Main Street. Whenever some big-spending, freedom-ending intrusive Democrat program is rolled out "for the children," you can bet there is a plethora of corporate hipster crony capitalists slavering in the rafters over all the new contracts to come. The backwash is massive speaking fees these corporate beneficiaries shovel out to Democrats once the programs are enacted. This is not the party of the little guy.
And it's an inflexible, brittle astance as well. Like Obama, the left finds it impossible change course when it goes too far. It just keeps digging deeper and deeper into its left-wing party line, intensifying it and thrilling its special interest activists and Sorosian NGOs determined to "make a difference."
Voters can see that – and yet at election time, the Democrats don't run one of these new-style extremists emblematic of who they now are. Such extremism is reserved for leftist representatives in safe and longtime seats such as Rep. Maxine Waters (D-Calif.). The Democrats run what they claim is a "moderate," figuring that voters won't notice how far the party has shifted left. Figuring that the youth gambit would work in the States as it did in France and Canada, they ran a candidate who tried to capitalize on his youthfulness – in this case, the 30-year-old documentary filmmaker named Jon Ossoff, who didn't even live in the district he purported to represent. He just said he hated Trump – and proposed a raft of tax hikes to prove he was a business-as-usual Democrat, not a new-style street extremist or Sorosian crony.
Now the Democrats are left with a steaming pile of $23 million in campaign debt, shelling out $200 per vote, all because they thought hating on Trump was a winning strategy that would thrill the voters. And if that isn't clear enough a message, a similar race in the 5th District of South Carolina came out the same way.
The left wanted a referendum on Trump. Today, they got it.
+++++++++++++++++++++++++++++++++
The Next Step on North Korea
New sanctions against China's traders and financiers might work.
The horrific death of Otto Warmbier, a 22-year-old student held in a North Korean prison for 17 months, highlights the brutal nature of the rogue regime and underscores the urgency of stopping its nuclear ambitions. The next step should be to sanction the Chinese financiers and traders who sustain Kim Jong Un.
President Trump built up expectations of Chinese help after his April summit with President Xi Jinping. That was a long shot given China's failure to rein in its ally in the past. But it made sense diplomatically, putting Mr. Xi on notice that tougher U.S. action would follow if he failed to deliver. But on Tuesday Mr. Trump tweeted, "While I greatly appreciate the efforts of President Xi & China to help with North Korea, it has not worked out. At least I know China tried!"
As the Journal reported last week, the Administration asked Beijing to crack down on some 10 Chinese companies and individuals that trade with North Korea. If China refuses, the U.S. is prepared to act unilaterally by the end of the summer. The U.S. should now move with dispatch to use tougher sanctions to deprive those on the list from access to the international financial system.
Skeptics are right that United Nations sanctions have done little to stop North Korea, but the sanctions that drove Iran to the negotiating table were far tougher. And a new report from the Washington research group C4ADS suggests that the North's trading network is highly vulnerable to the new sanctions.
The report dispels the misconception that North Korea obtains materials and technology for its weapons through an invisible network that can't be stopped by sanctions. It says the same small number of Chinese individuals and companies that dominate legal trade with the North also supply it with "dual use" goods to build nukes and missiles. As sanctions have tightened, this network has grown smaller and more consolidated. That's because there are only a few individuals who have the skills and connections within China and North Korea to continue trade under these circumstances. Pyongyang will find it hard to replace them.
The U.S. stumbled across this North Korean vulnerability in September 2005 when the U.S. Treasury named Macau's Banco Delta Asia a "primary concern" for North Korean money laundering. The bank was forced to freeze $25 million in North Korean assets, but the knock-on effects were huge. Trade that depended on the bank ground to a halt, and other banks cut their business with North Korea.
In a tragic miscalculation, the Bush Administration released the frozen funds two years later in return for North Korea returning to disarmament talks, which went nowhere. North Korea moved most of its trading network to China, and the Obama Administration let the North Korea problem grow as it focused on other priorities.
North Korea is now a few years away from fielding an intercontinental missile, and U.S. options are dwindling. A pre-emptive military strike is the last resort because the Kim regime could kill millions with conventional and nuclear weapons. But now that Beijing has been given the chance to help and either refused or failed, the U.S. and its allies have to use every sanction and other tool available to prevent the Kim regime from doing to millions what it did to Otto Warmbier.

Liberman: Abbas is dragging Israel into war with Hamas
Defense Minister Avigdor Liberman underlines that Israel has no intention of initiating armed conflict on any frontier. Palestinian Authority President Mahmoud Abbas will halt all financial payments to Gaza in the future and in so doing push Israel into war with Hamas, Defense Minister Avigdor Liberman warned on Thursday morning as he addressed the annual Herzliya Conference.

"I have no intention of initiating any military activity; not in the summer and not in the fall, not in the South and not in the North. Our objective is to prevent war and the only way to do that is through credible deference," Liberman said.

He blamed internal Palestinian politics for creating a humanitarian crisis in Gaza such that its 2 million residents are living on less than four hours of electricity a day.

"We do not have to enter Gaza forcibly, but this crisis is not about to be resolved," he said.

Israel this week began to reduce what will be a 40% reduction of the 120 MGW of electricity it provides Gaza, a move which leave its residents with two hours of power a day.

Israel did so at Abbas's request, after he said he would only pay 40% of the bill to the Israel Electricity Company, which is now Gaza's main provider of electricity. Depriving Gaza of electricity is one Abbas's tactics to weaken the group, so that he can regain control of the Strip decade after Hamas ousted Fatah in a bloody coup.

In the last couple of months Abbas has also stopped sending medication to the Gaza and has cut payments to the governmental employees there.

"This was not a tactic that he [Abbas] plans to use only once," Liberman said as he warned the situation would get worse.

With regard to the electricity, Abbas "has not made a one time reduction. He will continue to reduce [electricity] payments and to stop playmates all together in a few months both for the fuel and the medicine and payments of [civic salaries]," Liberman said.

Abbas has taken this step unilaterally without consulting Israel, Egypt or Jordan, he said.

"He is saying that we are just trying to weaken Hamas," Liberman said. But the only logical conclusion is that there is a double strategy here in which Abbas is crippling Hamas also out of a hope that "he will drag Hamas into a conflict with Israel.



US anti-ISIS envoy vows not to let Iran threaten Israel from Syrian Golan
+++++++++++++++++++++++++++++++++++