++++++++++++++++++++++++++++++++++++++++++++++++++++++++++++++++++++++++
These are not the kind of military leaders Obama is comfortable with because he is more interested in turning our military into a politically correct social experiment.
Chesty Puller was the step
father of one of my friends and
former clients.
Obama leaves to play golf in Louisiana.
++++++++++++++++++++++++++++++++++++++++++++++++++++++++++++++++++++++++
Hamas decided it was time to launch a random rocket attack against Sderot .Fortunately it was ineffective and the IAF responded by pounding Hamas.
In view of the fact that America, Russia and Iran are engaged in air strikes in Syria the tragic killing of civilians is an unfortunate side effect so it would be hypocritical for the press and media to attack Israel for responding but you never know. (See 1 below.) (See 1 below.)
+++
The politically incorrect laundry:
The second and 3rd clips load 2 secs after the prior short clip ends automatically
(I expect when Hillary becomes president the PC police will ban all such humor and America will become a colorless society.)
Dick
+++++++++++++++++++++++++++++++++++++++++++++++++++++++++++++++++++++++
1)
IDF continues pounding Hamas targets into night
As tensions mount in wake of rocket fired from Gaza into Israel, IDF continued a combined artillery and air assault on Hamas targets into the night; IDF: 'Hamas is the sovereign power in the Gaza Strip and it is therefore responsible.'
The IDF is reported to have continued a combined air and artillery assualt on Hamas targets in Gaza Sunday night in retaliation for rockets fired from the Strip into Sderot earlier on Sunday afternoon.
According to the Palestinian report, the strikes were carried out by the Israel Air Force and Israeli artillery units on a Hamas military wing position in Beit Hanoun in the north Gaza Strip, from which the rocket was launched earlier on Sunday afternoon. The report indicates that one of the targets was a military outpost belonging to Hamas's security apparatus.
Moreover, the report claimed that a 17-year-old Palestinian boy was lightly wounded during the retaliatory attacks, along with three other children suffering from shock.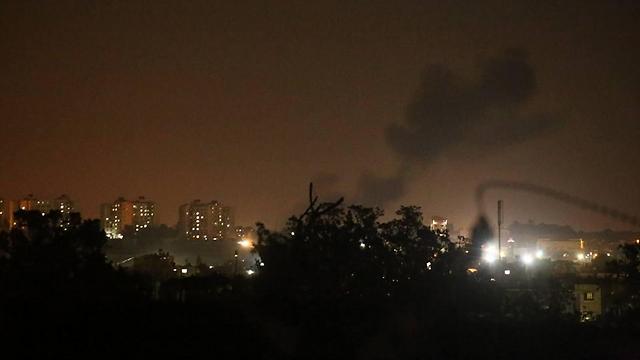 IDF continues to retaliate in Gaza for rocket fire into Israel
The response of the IDF signals a departure from the norm as it usually retaliates once during the hours immediately following the rocket fire or the night after. While the reports were not originally officially verified by the IDF late Sunday night, explosions were heard by residents of Israeli towns bordering the Gaza Strip. Guy, a resident of Sderot said, "There is a feeling of pressure and fear. We hope everything is going to be ok."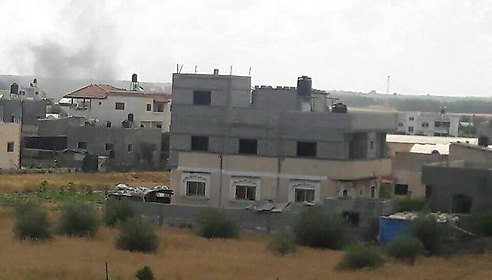 Strikes in southern Gaza
Later, the IDF released a statement accounting for the continued attacks: "The IDF attacks are in response to the rocket fire into Israeli territory. The rocket fire constitutes a threat to the security of Israel and a strike against the State of Israel's sovereignty," the statesmen read. "The Hamas terror organization is the sovereign power in the Gaza Strip and it is therefore responsible for all terror activities emanating from it."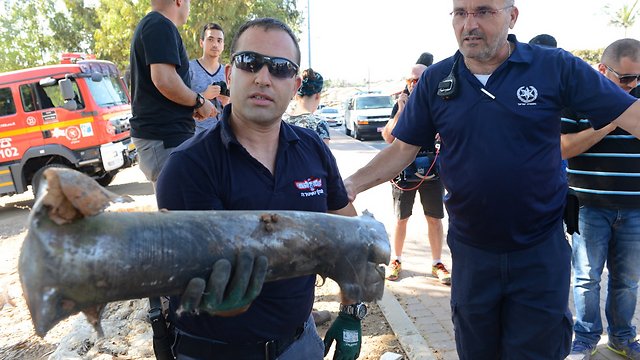 Rocket which fell in Sderot (Photo: Avi Rokeah)
Shortly afterwards, an explosion was heard, and a rocket was found between two residential houses in Sderot. There were no injuries or damage, though forces were immediately dispatched to the area.
+++++++++++++++++++++++++++++++++++++++++++++++++++++++++++++++++++++++
2)
IS TURKEY ABANDONING NATO OR VICE VERSA?
There is a growing perception in Turkey that NATO has been apathetic in the aftermath of the July 15 coup attempt and hasn't shown the appropriate concern a member of the alliance deserves.
People wonder whether this silence means NATO is giving up on Turkey. Although belated and half-hearted support messages from NATO have surfaced recently, a perusal of foreign media shows a perceptible increase in comments that Turkey-NATO ties have weakened and — especially since the Aug. 9 summit between Turkish President Recep Tayyip Erdogan and Russian President Vladimir Putin — this relationship is now in crisis. Some comments even suggest this may be the time for NATO to expel Turkey.
In Turkey, these comments are generally interpreted as NATO distancing itself from Turkey.
The latest crisis between Turkey and NATO is over Turkish Vice Adm. Mustafa Zeki Ugurlu, who was posted to NATO's Allied Command Transformation in Norfolk, Va. Turkey issued an arrest warrant for Ugurlu on charges that he is affiliated with the Gulenist movement's infiltration of the Turkish Armed Forces (TSK).
On July 12, three days before the coup attempt, Turkey issued a warrant for Ugurlu and asked NATO to terminate his posting and return him to Turkey. NATO, however, ignored the warrant and Turkey's request. NATO did not even remove him from active duty. Ugurlu obtained a medical report from a Norfolk hospital saying that he suffers from vertigo and that it would be risky for him to fly across the ocean.
After the July 15 coup attempt, Turkey issued another warrant for Ugurlu on charges of plotting the coup. He was officially discharged from the TSK [Turkish Military] on July 28. In a July 28 news item on NATO's website, Ugurlu was seen representing Turkey in a July 26 meeting of the NATO Industrial Workshop. The photograph was removed from the website Aug. 13 after Turkish media got hold of it.
Ugurlu has applied for asylum in the United States and is now apparently missing.
The prevailing perception in Ankara is that NATO did not take the Ugurlu issue seriously enough. Turkey says Ugurlu has vital information on Gulenist operations in Turkey and finds it hard to accept that he simply disappeared in the United States. There is also a belief in Turkey that NATO was involved in the coup attempt because of the active roles played by military units that are part of NATO's Rapid Deployable Corps-Turkey.
Then there is information circulating that most of the staff officers in the WhatsApp coup group in Istanbul had served long stints in NATO.
Also supporting the allegations of a NATO connection are charges that most of the generals on the night of July 15 who were leading —- or at least not challenging — the coup attempt from the chief of staff headquarters in Ankara were officers identified with strong pro-NATO and Atlantic Alliance views.
Some media outlets, especially those favoring the ruling Justice and Development Party (AKP), play on such ideas, whether they are realities or mere allegations. They never miss a day touting headlines about how July 15 was staged by Gulenists with the knowledge of NATO and support of the US Central Intelligence Agency. Pro-AKP columnists have not run out of conspiracies yet.
All the sources Al-Monitor spoke with in Ankara agree that NATO simply doesn't want to show any interest in events in Turkey.
According to a July 2015 report from the Ankara office of the German Marshall Fund of the United States on the Turkish public's perceptions of NATO, the three most trusted international institutions at that time were the European Court of Human Rights (44%), the Organization for Islamic Cooperation (39%) and the European Union (39%). Some 35% of respondents felt Turkey no longer needed NATO membership and 27% had no opinion. Only about 30% of Turks said they trust NATO.
There has been no poll taken on NATO perceptions in Turkey since July 15, but it's likely that if a poll is taken, the result will be much worse than pre-July 15.
Given the negative perceptions in Turkey, NATO has to take urgent, public diplomatic steps to tell its story, but so far there has been no serious response. Some ask if NATO has given up on Turkey or is simply fatigued by persistent crisis situations with Ankara.
The coup attempt has certainly opened a new existential fault line in Ankara-NATO ties, already made shaky by the Syrian crisis, refugees, combating the Islamic State and the Kurdistan Workers Party, and power balances in the eastern Mediterranean and Black Sea. NATO appears to prefer a low profile in its relations with Turkey. In turn, Ankara interprets that as lack of adequate support. It's no surprise that the Turkish public has adopted the same position as the state.
The question therefore is, has Turkey given up on NATO or has NATO given up on Turkey? I believe the person who will be the most curious to find the answer is Vladimir Putin.
Metin Gurcan is a columnist for Al-Monitor's Turkey Pulse. He served in Afghanistan, Kazakhstan, Kyrgyzstan and Iraq as a Turkish military adviser between 2002-2008. Resigned from the military, he is now an Istanbul-based independent security analyst. Gurcan obtained his PhD in May 2016, with a dissertation on changes in the Turkish military over the last decade. He has been published extensively in Turkish and foreign academic journals and has a book forthcoming in August 2016 titled "What Went Wrong in Afghanistan: Understanding Counterinsurgency in Tribalized, Rural, Muslim Environments."
TranslatorTimur Göksel
+++++++++++++++++++++++++++++++++++++++++++++++++++++++++++++++++
3)
The FBI found 15,000 emails Hillary Clinton didn't turn over. Uh oh.
By Chris Cillizza <
http://www.washingtonpost.com/people/chris-cillizza
> August 22 at 11:38 AM Follow @thefix <
https://twitter.com/@thefix
> If you scrape away all of the spin and the political positioning that Hillary Clinton's decision to use a private email server has spawned, you are left with these facts:
1. Clinton is the first secretary of state to exclusively use a private email account for official business.
2. She is also the first secretary of state to have a private email server housed at her home.
3. When asked by the State Department to turn over her emails, Clinton had a team of lawyers go through them to separate those that were purely personal and those that touched on some aspect of her professional life. The personal emails were deleted permanently off the server. The professional ones were turned over to the State Department. Here's how that broke down:
(The Washington Post)
Clinton deleted more emails than she turned over. Her team never actually read all of the emails, skimming subject lines instead. And there was never anyone outside of Clinton's direct orbit brought in to oversee the process. The essence of Clinton's argument regarding this email-sorting process was: Trust me. As in, my team of lawyers found all of the emails that were even tangentially tied to my day job as the nation's top diplomat and turned them over to the State Department.
"The total — confirmed by the Justice Department — was disclosed by a conservative legal group after the State Department said last week that it would hand over the emails. The number to be released is nearly 50 percent more than the 30,000-plus that Clinton's lawyers deemed work-related and returned to the department in December 2014."
Um, okay.
So, the FBI found about 15,000 documents/emails sent or received by Clinton that were not part of the 30,000 emails her own search turned up. It's not clear, of course, whether any/all of these emails and documents were work-related. It's possible that all 15,000 were part of the 30,000-plus emails Clinton and her team deleted permanently.
But, we know from FBI Director James B. Comey that during its investigation, the FBI found several thousand work-related emails that had not been previously turned over by Clinton. While these 15,000 appear to be at least part of what Comey is referring to, there's no way today of knowing how much overlap between those two sets there actually is.
To be clear: Clinton has already been cleared of any official wrongdoing in the matter by Comey. And Comey and the FBI were aware of this latest batch of emails — hell, they found them! -- when he rendered his judgment on Clinton.
But, the whole thing just makes it harder and harder for Clinton to sell the idea that her process for sorting emails into professional and private piles was effective. And that raises the possibility that Clinton got rid of lots of emails that she shouldn't have via a process that was something short of transparent. Which is a very bad look for someone who is currently the clear front-runner to be the next president.
Chris Cillizza writes "The Fix," a politics blog for the Washington Post. He also covers the White House.
+++++++++++++++++++++++++++++++++++++++++++++++++++++++++++++++++++++++++