Melanie Phillips chimes in on Syria's WMD and the challenge it places upon Obama.
Years ago I kept writing about how Israel had warned GW, large amounts of Hussein's Chemical WMD's were being trucked into Syria.
The CIA pooh poohed it as did a person, whose name I forget, and who was assigned to verify this claim.(See 1 below.)
---
Liberals hate Bolton because he is tough and has been right. (See 2 below.)
---
Obama to Israel: 'I have your back covered so I can stab it one more time?' (See 3 below.)
---
I asked a very astute friend and fellow memo reader what he thought of the market now, since he has been bullish for several years. His reply: "
All central banks in the world have switched to easing like the US. The US has slowed because of the foreign slowdowns but will re-accelerate as those begin to accelerate. Therefore, I continue to be positive on equities."
---
Have banks become competitors of Chinese laundries? After losing their shirts they now know how to launder them? (See 4 below.)
---
Not a movie but al Qaeda coming to America? (See 5 below.)
Are Democrats engaged in a losing bet with a casino mogul? You decide. (See 5a below.)
---
Medved and I are on the same page - it is all uphill for Obama and every time he opens his mouth and whines he increases the angle of his schlep!
Will Prez Obama do anything to get elected? Will he do anything to portray himself as macho even to the point of revealing classified secrets that damage our country? You decide.
Did Obama kill the guy who once headed al Qaeda if entrepreneurs have to depend upon government for everything? You decide. (See 6 and 6a below.)
---
An always gracious former First Lady talks about her husband. (See 7 below.)
--
Being the snake oil illusionist salesman that he is, Obama wants you to believe his words so you will not judge his actions. This is also the basis of how he constructs his foreign policy. Take the words of others so as to finesse their actions. (See 8 below.)
Dick
----------------------------------------------------------------------------------------------------------------------) Syria's Chemical Weapons Arsenal
By Melanie Phillips
There is a degree of panic, and rightly so, over whether the Syrian tyrant Basher al Assad will use chemical weapons against either his own people or foreign attackers. His regime has this week threatened to do the latter, thus finally confirming what was long suspected but never openly admitted, that Syria possesses chemical weapons. It is believed to have mustard gas as well as nerve agents such as tabun, sarin and VX. The fear is either that the Assad regime uses them or that they fall into the hands of Hezbollah, al Qaeda or other Islamic terrorist groups. Either prospect is utterly nightmarish. Even Russia says it has told Syria it is unacceptable to threaten to use them.
In the last few days, this has been much discussed. What has not been raised, however, is the question of how Syria managed to develop such a chemical weapons stockpile in the first place. No-one in the western media seems remotely curious about how Syria has managed to arm itself to the teeth with them beneath the radar of international scrutiny.
Dr Danny Shoham, at the Begin-Sadat Centre for Strategic Studies at Bar-Ilan University in Israel, is an expert in chemical and biological warfare. In a Middle East Quarterly article in 2002, Guile, Gas and Germs: Syria's Ultimate Weapons, he set out the extraordinary history of Syria's chemical weapons programme.
It first received chemical weapons from Egypt, he says, as far back as 1973. By the late eighties, it was saying it possessed an 'answer to Israel's nuclear threat'; people who read between the lines understood this meant Syria now possessed non-conventional weapons. In 1992, Syria refused to commit itself to the elimination of chemical weapons. From the 1970s onwards, wrote Shoham, Syria covertly developed a chemical weapons programme, aided by a wide variety of European and Asian suppliers including the Soviet Union, West Germany and middlemen and brokers located in Germany, the Netherlands, Switzerland, France, Britain, and Austria.
'Syria now possesses the most formidable CBW capabilities of any Arab state. Its arsenal probably even exceeds that of Iran in quantity and quality. Yet in building it from scratch, under the rule of Hafiz al-Asad, Syria has always managed to stay just outside the spotlight of international scrutiny. It did so by diffusing its efforts, and by playing its political cards with supreme skill-entering (and exiting) the Arab-Israeli "peace process" at just the right times, joining the Kuwait war coalition, cutting back at the last moment on its support for Kurdish separatism in Turkey, and so on. The West has always had some reason not to include Syria on its blackest list. Other regional problems have also drawn attention away from Syria. The United States is still preoccupied with Iraq and Iran, alongside which Syria appears benign.
'But at this moment in time, it is a fact: Syria has more destructive capabilities than either of them. The West is often accused of a double standard-of tolerating Israel's possession of WMD, while preventing those same weapons from coming into the hands of Arabs or Muslims. But if there is such a double standard, then how does one explain the West's silence, if not complicity, in the building of Syria's CBW capabilities? A simple explanation would be to say that Syria outwitted the world. But that explanation may be too simple. Many parties profited from the Syrian build-up, and foreign strategists thought that a strong Syrian deterrent might give Hafiz al-Asad the confidence to make peace.'
That, however, was back in 2002. In 2003 the US, Britain and others went to war in Iraq to make the world safe from Saddam Hussein and his pursuit of weapons of mass destruction. Ever since, however, we have been told that there were no weapons of mass destruction in Iraq, and the proof of that is that none was ever found - surely one of the most profoundly illogical and imbecilic formulations ever to have fallen from human lips.
At the time, however, there were a number of reports that enormous truck movements across the border from Iraq into Syria suggested that some of these WMD had been moved there. Saddam's Air Vice-Marshal Georges Sada, whom I interviewed, said he was absolutely certain that WMD had been moved from Iraq to Syria. All of this was however brushed aside for, as the bien pensant world has never stopped intoning with positively religious fervour, 'we were taken to war in Iraq on a lie'.
But now we know that Syria possesses an arsenal of chemical weapons. So could any of this have come from Saddam's Iraq, just as it was transferred from Egypt two decades previously?
In a more recent paper published in 2006 in the International Journal of Intelligence and Counter-Intelligence , An Antithesis on the Fate of Iraq's Chemical and Biological Weapons, Dr Shoham wrote that the two official reports - Duelfer and Carnegie in 2004 - that supposedly exonerated Saddam of still having WMD by the outbreak of war ignored much information that indicated the smuggling of chemical and biological weapons from Iraq into Syria. Although the most knowledgeable and experienced individuals tracking Iraq's WMD were members of UNSCOM, they were largely excluded by the US intelligence community. Ill-trained soldiers would go to a site, find something suspicious, return 48 hours later and find it had disappeared.
In October 2003, the US intelligence community publicly pointed for the first time to transfers of WMD from Iraq to Syria. The Director of the National Imagery and Mapping Agency, James Clapper, said it linked the disappearance of Iraqi WMD with the huge number of Iraqi trucks entering Syria before and during the US invasion; based on satellite imagery, it assessed that these trucks contained missiles and WMD components. Shipments to Syria were supervised by Saddam's most loyal intelligence agents. Once the shipments were made, these agents would leave and the regular border guards resumed their posts.
Moreover, captured Iraqi documents record that the Russian 'spetsnaz' moved many of Saddam's weapons and related goods, including chemicals used to make chemical weapons plus missile components and MIG jet parts, out of Iraq and into Syria in the weeks before the 2003 invasion.
In 2004 Nizar Najoef, a Syrian journalist who defected from Syria to Europe, claimed he had received information from contacts in Syrian intelligence that:
Tunnels dug under al Baida near Hama in northern Syria were an integral part of an underground factory, built by the North Koreans, for producing Syrian Scud missiles. Iraqi chemical weapons and long range missiles were stored there;

Vital parts of Iraq's WMD were stored in the village of Tal Snan, north of Salamija where there was a big Syrian air force camp;

Iraqi WMD was also stored in the city of Sjinsjar on Syria's border with Lebanon.
'Apparently, then, the prevailing perception of the "failure" to find Iraq's CBW arsenal ought to be rethought...Strategically, Iraq's enduring arsenal may affect Syria's CBW capabilities, provided that the transfer did in fact take place...'
Might some of Basher al Assad's chemical (and possibly biological) arsenal have Saddam Hussein's name on it?
-------------------------------------------------------
2)
Bolton: Obama 'Most Hostile' President Toward Israel Ever
Former U.N. Ambassador John Bolton is calling Barack Obama "the most hostile president" toward Israel since the Jewish state was created, saying his policies have "actually set the peace process back" in the Middle East.
Responding to a tweet Tuesday from Vice President Joe Biden that Obama "has done more for Israel's security than any president since Harry Truman," Bolton declared, "That's just ridiculous."
"This is the most hostile president since the state of Israel was created," Bolton told Fox News' Greta Van Susteren Tuesday night. "He's demonstrated that hostility right from the beginning of his administration."
Bolton — now a Fox News contributor who supports Republican Mitt Romney's presidential campaign — accused the president of putting "the responsibility for all the turmoil in the region on Israel."
"By relieving the Palestinians of any real obligation to negotiate, he's actually set the peace process back," Bolton charged, referring to early speeches in which the president suggested Israel should be confined to the boundaries established following the 1967 Arab-Israeli conflict known as the Six-Day War.
"This has been very, very restrictive on Israel, and it has cost the United States, and Israel, and its Arab friends in the region," he added.
Bolton also said Obama's "treatment of Iran's nuclear weapons program has been profoundly mishandled" to the point of endangering not only Israel's security, but the rest of the world as well.
Bolton made the comments as Romney headed off on his first trip abroad as a presidential candidate. Stops are planned for Israel, Poland, and the Olympic Games in London before he returns home to the campaign trail.
Bolton described it as "significant" that Obama has yet to visit Israel as president and chose Egypt as his first trip abroad after taking office.
"The fact that the president went to Egypt to give a major speech to the Muslim world but couldn't find time to slip into Israel for a visit — you can't miss the symbolism of that," Bolton said. "I think, though, it is the broader mistreatment of Israel, of denigrating its role as an important ally, not understanding the contribution it has made to security in the Middle East, that's the real problem."
Bolton suggested the point of Romney's specific visit to Israel is to make it clear that "his administration will treat its friends like friends and its adversaries like adversaries."
© 2012 Newsmax. All rights reserved.
--------------------------------------------------------------------------------------------------------------------
3)
Israeli government and military leaders were taken aback by the news of US President Barack Obama's invitation to the new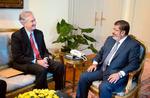 HSBC Mexico took dollars, transported them back to the United States, and deposited them in HBUS, thus completing the laundering cycle for the cartels. In 2007 and 2008, HSBC Mexico shipped over $7 billion in physical US dollars to the United States, more than any other Mexican bank.
In an attempt to circumvent US sanctions efforts, HSBC concealed any link to Iran for 85% of these transactions.
Senior HSBC officials on both sides of the Atlantic claimed that they were not aware, but congress disclosed evidence, including emails, that demonstrates they were actually in the loop from a very early stage, and well understood the risk these transactions posed to the bank. Lawmakers also presented evidence that HSBC affiliates tried to circumvent US sanctions efforts against Sudan and North Korea.
Other steps the bank should take include closing down bearer share accounts. It might also wish to better share information, both within the HSBC affiliate structure and with relevant government officials worldwide. This would go a long way toward ensuring it is doing its part to curb abuse of the international financial sector. In today's interconnected financial world, such measures are part of the cost of doing business.
HSBC must revamp its compliance regime across the board or face the consequences from global banking regulators, which should include losing its license to operate if it fails to carry out its obligations. Global financial institutions must use every tool in their arsenal to curb the efforts of those who exploit tainted money. HSBC is no exception.
Al-Qaida in Iraq has been known primarily for launching attacks against the American forces in Iraq and the Shiite-led government there, as well as helping to plot attacks in neighboring Jordan.
Meanwhile, the tight national polling shows static or declining enthusiasm for Obama in the key constituent groups that made up 2008's victorious coalition. The president still commands big leads among young people, Jewish voters, union households and unmarried women — but his numbers are down from last time.
Even among African-American voters, where candidate Obama drew 95% of the vote in 2008, his backing looks less unanimous and enthusiastic, indicating potentially reduced turnout.
The president holds his own with Hispanics (thanks to his new emphasis on immigration) but can't expect significant improvement on the 67% he scored last time.
Four years ago, Obama won Catholic voters, but recent polls show this key swing constituency either evenly divided or tilting toward Romney.
If the president doesn't compensate for inevitable losses by adding new supporters, he's certain to lose the election: His vote total last time (nearly 52.9% against John McCain) doesn't provide a comfortable cushion against a more formidable opponent and more unified GOP. Democratic strategists must identify elements of the electorate where they can add new votes over 2008 rather than struggling on every front to limit their losses.
That's why the president's own prediction of an election "even closer than the last" might have unwittingly revealed his underlying pessimism in approaching November. He broke tradition and made history in 2008 by becoming the first non-white candidate elected to national office. It's also conceivable that he could discredit Romney thoroughly enough to become the only president to win a second term with reduced rather than enhanced support. But the odds, and records of all past campaigns, show that accepting fewer votes in a bid for re-election amounts to a formula for sure defeat rather than a blue-print for narrow victory.